About this Event
"PASSION. PLAY. PLEASURE." is a movement workshop organized by Alvin Collantes, a certified Gaga teacher based in Berlin, DE.
Designed for dancers & non-dancers, the workshop will begin with a 1hr Gaga class as a way to warm up the body, then proceeding into movement research and culminating with an impro jam session.
- - -
Pleasure exists inside of us. Everyday we experience it, we taste it, we see it in other people, we let it linger in our memories.
What I am curious to research is the meaning of pleasure; how it bleeds into our everyday lives, how it affects our choice making abilities and how it connects us to other people.
How can we find pleasure especially in high and low moments of life? Can we use it as a source for movement? In physical and emotional moments of pain, can we ignite pleasure as a source for healing?
I am curious to see where these questions lead us and how we can continuously search for its meaning through the physical body. I am curious to play with volume, how it bleeds into our passion to move and how can we access this door to discover freedom.
- - -
In this workshop, we will discuss, dance and discover many ways to sense our passion, play and pleasure. :-) **No Urban Sports**
- - -
SCHEDULE:
12:00 - 13:00: PASSION: Gaga Class
Gaga is a new way of gaining knowledge and self-awareness through your body. Gaga provides a framework for discovering and strengthening your body and adding flexibility, stamina, and agility while lightening the senses and imagination.
13:15 - 15:15: PLEASURE: Movement Research
This movement research session will consist of few exercises that invites discussion, personal mentorship and working with partners and groups. It will be mostly a physical experience exploring levels, volumes and many ways the body can articulate the research.
15:15 - 15:30: PLAY: Impro Jam Session
Alvin will play for 10-15 minutes of music that allows us to put the research into practice. Opening the space to create beautiful moments with people, within yourself or within the group. Each will play both the role of the active observer and participant for the impro session.
- - -
Video Links of Alvin Collantes:
https://youtu.be/dhzClzByCxw
https://vimeo.com/370938565/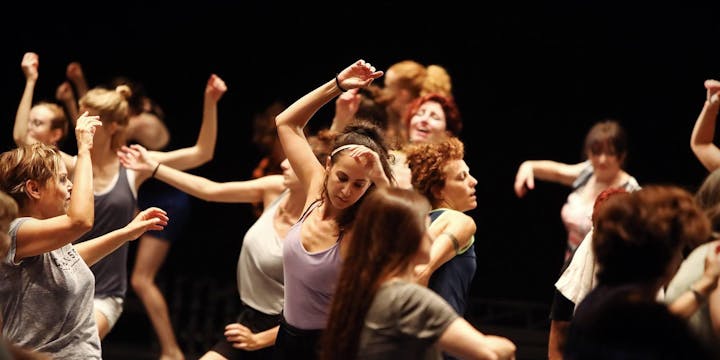 Photo of Gaga People by Ascaf