PASSION, PRIDE & MEMORY: an evening of Chinese drama and dance
Description
What to expect?
An evening of high artistry expressing love, passion, longing, pride and sorrow through song and dance. From Buddhist melodies, played with the ethnic instrument guzheng to the well-known song of "The Drunken Concubine", from Chinese theatre and martial arts to the intricate dance of Chinese ethnic minorities such as the Dai and Uyghur people. There will be a medley of traditional Beijing and Yue Opera segments and a colourful mix of dance performances.
This evening of Chinese drama and dance is brought to the Garden by the highly energetic and multi-talented
Canada Chinese Society of Song and Dance Seniors Group, celebrating its first anniversary of performing around the Lower Mainland. The Group is led by Mr. Dong Fang, the group's singing teacher, Ms. Tingting Xu, the instructor of opera team and Lina Yun, the instructor of the dance team.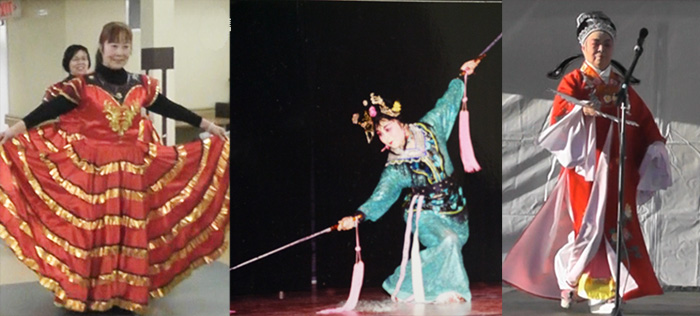 It is an evening full of emotions and here is a look into the stories.
You will be moved while listening to Burial of the Fallen Flowers from Dream of the Red Chamber, or will root for young lovers, a rural young man and the carpenter's daughter in The Story of the Arhat Coin, a Hu Opera classic, who fought against the village chief and the village's feudal system and united at the end.
You won't help but feel pride and support for the witty and wise general Liang as he diverts imminent disaster with his "Empty Fort Strategy" in the scene: Viewing the Mountain from the Tower Gate. He ordered all the gates to be opened and instructed old soldiers to sweep the roads while he sat on the platform above the gates drinking and playing the Chinese Zither calmly. His enemy, Sima Yi was surprised by the scene when he arrived with the troops. Suspecting ambush in the city, Yi ordered a retreat and the city of Xicheng was saved. Clever, isn't it?
One evening ONLY! Hurry up until tickets last.
ABOUT THE VENUE:
Named the World's Top City Garden by National Geographic, voted Garden of the Year 2012 by the Garden Tourism Council of Canada and awarded 'Places that Matter' status by the Vancouver Heritage Fondation, the Dr. Sun Yat-Sen Classical Chinese Garden is truly a place of urban zen. Intended to stop you in your tracks, the Garden takes on added dimensions of intimacy and enchantment at sunset.
---

中华情怀:
传统戏剧舞蹈之夜
2016年六月二十五日(星期六)晚7:30-9:30

有何期待?在这个夜晚,演员们将以歌舞为载体,表达他们对文化的热爱、渴望、怀念、自豪与悲情。从古筝演绎的佛家音乐到著名的《贵妃醉酒》选段,从中国戏剧、传统武术到傣、维吾尔族等少数民族的精美舞蹈,整晚的表演将是京剧、越剧、民族舞蹈的多彩碰撞与美丽结合。
为您带来此次演出的是高热情、多才艺的CC歌舞团。CC歌舞团正值创办一周年,已在大温地区多处场所受邀演出。主要负责人为东方先生,徐婷婷女士与云丽娜女士,分别担任团员的声乐、戏剧、舞蹈指导教师。
在这充满情怀的夜晚里,我们将重温种种经典。
您会为《红楼梦》中《黛玉葬花》的悲戚旋律所感动,也会为《空城计》中诸葛亮"我正在城楼观山景"的大智大勇而心生敬佩。
您会为沪剧经典《罗汉钱》中青年情侣为了爱情自由不惜挑战权威的封建制度,最终结为连理的故事而振奋。
仅演一晚!购票从速。
关于场地:
中山公园被美国国家地理杂志誉为"世界最佳城市花园",曾被加拿大园林旅游协会评为"2012年年度花园",更被温哥华文化遗产基金会授予"重要之地"荣誉。作为城市中的一处静心之地,中山公园让人在喧嚣中停下脚步,在日落时分尤其充满魅力。
或大门售票处晚间 7:00-8:00 六月二十五日
一人$15,夫妇 $25, 老年人(65岁以上) 和学生$12每人