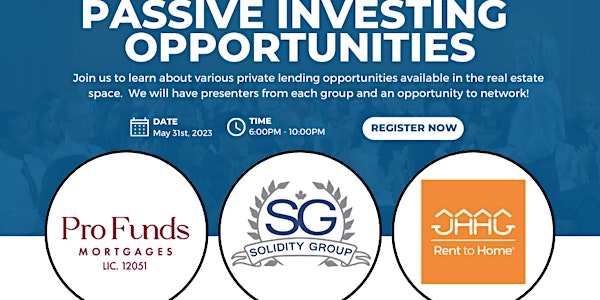 Passive Investing Opportunities
Come and find out what the different types of private lending opportunities there are out there. Get returns without tenants and toilets!
Date and time
Wed, May 31, 2023 6:00 PM - 10:00 PM EDT
Location
Crossing Pub & Eatery 1269 Hyde Park Road London, ON N6H 5K6 Canada
About this event
Profunds:
As a group of Professionals In Real Estate, Pro Funds Mortgages is an exclusive mortgage brokerage that caters to like-minded real estate professionals. The brokerage offers financing and mortgage investing with both private and institutional lenders for all types of real estate and development-related projects.
Pro Funds Mortgages is part of a collaborative group of real estate companies known as One Real Estate Enterprise with a diversity of offerings such as a Real Estate Investment Trust (REIT), Investments in Real Estate, Financing & Mortgage Investments, Developments, Construction, Property Management, Vacation Rentals, and a Nationwide Real Estate TV Show.
​The Solidity Group Mortgage Investment Corporation is a Canadian non-bank lender.
We work hard for our investors and brokers! With successful, transparent investing at the top of our priorities, we believe results will follow after a 'slow and steady' approach.Since Solidity's inception, our returns have favoured between 7.5209% and 10.0684%, allowing ample opportunity for our clients to expand their portfolios.We provide investors with the opportunity to invest in shares in a varying and profitable mortgage portfolio while also providing our brokers with diverse mortgage options for their clients.We continue to thrive where larger financial institutions fail to offer competitive terms and structures. Our deep understanding of our market has allowed us to make informed, intelligent lending decisions.
JaaG Properties
JAAG Properties is looking to set up a 50/50 JV Partnership with an investor that can help hold the mortgage and put up the required capital. JAAG Properties would manage the entire deal from start to finish as well as manage the property and clients. Their team is currently managing 100+ properties and have experience in closing over 150 RTO Programs.
JUSTIN DESECK IS NOT ENGAGED IN RENDERING LEGAL, TAX OR FINANCIAL ADVICE OR SERVICES VIA THESE EVENTS OR REAL ESTATE SALES SERVICES. JUSTIN DESECK IS NOT A FINANCIAL PLANNER, BROKER OR TAX ADVISOR. These events and offerings of real estate services are intended only to assist you in your financial organization and decision-making and are broad in scope. Your personal financial situation is unique, and any information and advice obtained through these events or real estate services may not be appropriate for your situation. Accordingly, before making any final decisions or implementing any financial strategy, you should consider obtaining additional information and advice from your accountant or other financial advisers who are fully aware of your individual circumstances.