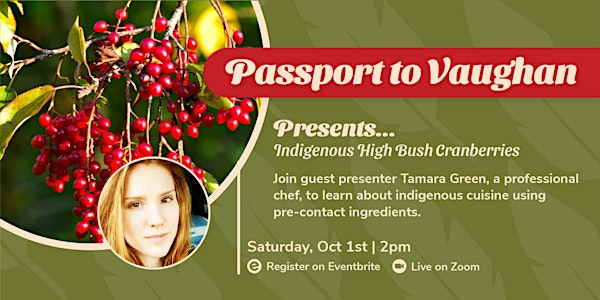 Passport to Vaughan: Indigenous High Bush Cranberries
Join guest presenter Tamara Green to learn about indigenous cuisine using pre-contact ingredients.
About this event
Culture is molded by the land: Italy's canals, France's wine country. Canada is rooted in pure, unique edible plants; resources we have forgotten.
Tamara Green is a personal chef, specializing in indigenous cuisine using these pre-contact ingredients. She is inspired by the Great Law of the Iroquois, reflecting mostly on the cuisine of the peoples of the Great Lakes regions, such as the Haudenosaunee, Anishinaabe, and Huron to craft meals for private dinners and special events.
The Passport to Vaughan series is an opportunity to learn about the many cultures that are represented in the city of Vaughan.
Online
Oct 1, 2:00 PM - 3:00 PM - Registration starts September 10th
The personal information collected from you on this form will only be used for the purpose of Vaughan Public Libraries' program and/or event registration. Your personal information will not be shared with outside organizations, except as indicated in the Privacy Statement.