Description
We are pleased to invite you to a Pasta Dinner with Hamilton Mountain Ontario Progressive Conservative candidate Esther Pauls. This will be a great opportunity to meet with Esther face to face and ask her any questions regarding her candidacy.

The dinner will be completely free of charge to you but we will be accepting donations.

Feel free to invite your friends and family to the dinner but as space is limited, please ensure that you RSVP on Eventbrite by November 14, 2017 at 11:59 PM.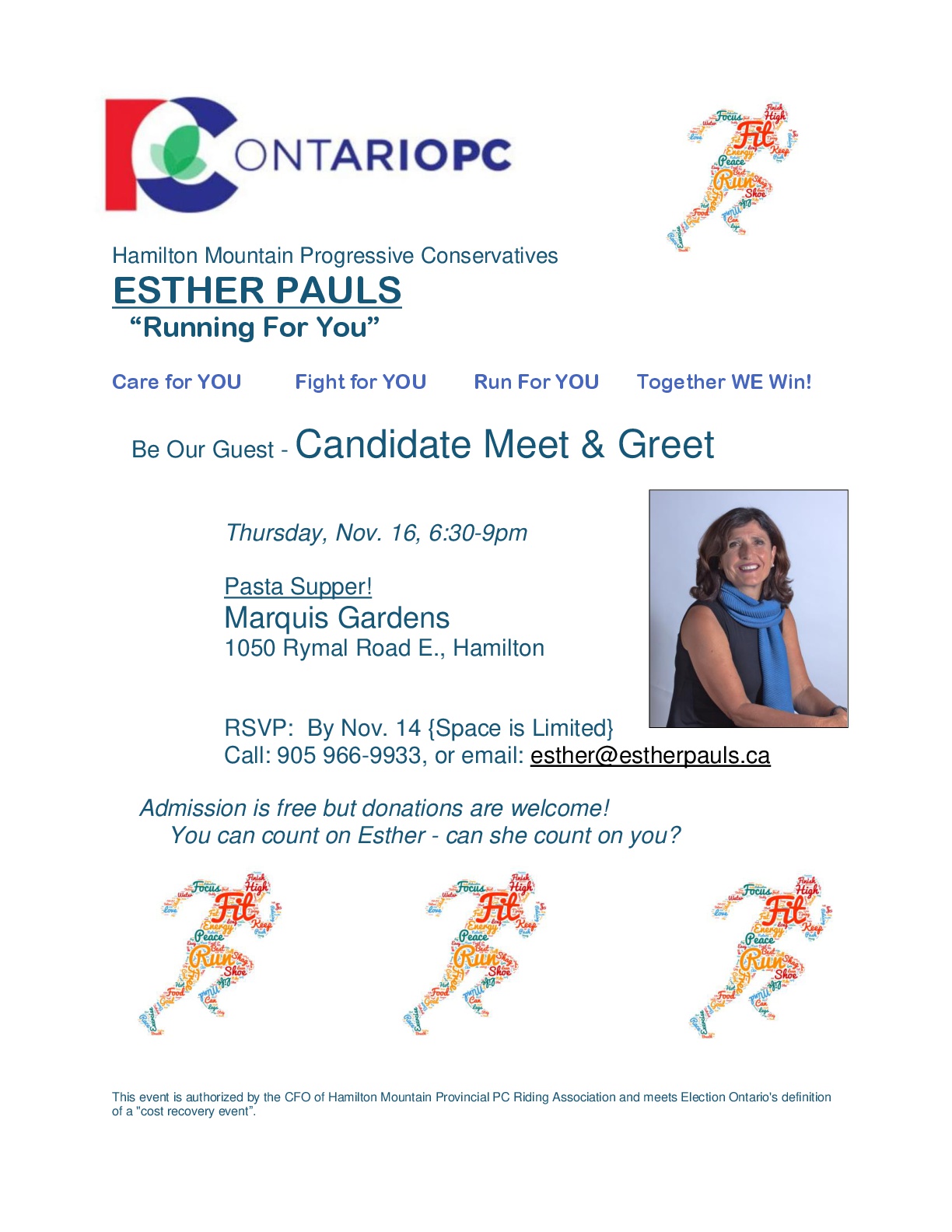 Here's Esther's background:

Successful entrepreneur and co-owner of the Runner's Den, Esther Pauls is known for being an accomplished athlete and Ironman. Esther is also an amazing, award-winning community activist. Named Woman of the Year by the Hamilton Chamber of Commerce, for 18 years Esther has helped run the Road2Hope Marathon. Esther's leadership has enabled CityKidz, Liberty for Youth, Joy and Hope of Haiti and 20 other local charities raise over $1 million. Esther is always active on volunteer boards.

Esther's accomplishments towards the betterment of Hamilton is reflected on the various local awards she earned, notable among them are Athena Award:Woman of the Year (Hamilton Chamber of Commerce), YMCA Peace Medal, Paul Harris Award (Rotary), and Sports Ambassador of the Year (Hamilton Tourism).

To find out more about Esther Pauls campaign, visit www.estherpauls.ca
Esther can also be reached through her email esther@estherpauls.ca or through phone at (905) 966-9933

** This event is authorized by the CFO of Hamilton Mountain Provincial PC Riding Association and meets Election Ontario's definition of a "cost recovery event".