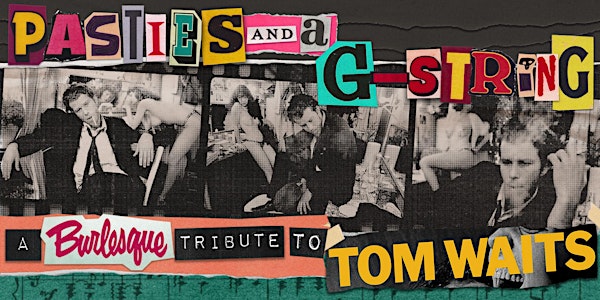 Pasties & A-G-String | A Burlesque Tribute To Tom Waits
Pasties and a g-string... beer and a shot... an intoxicating night celebrating the eclectic works of Tom Waits.
When and where
Date and time
Thu, Dec 8, 2022 7:00 PM - 11:00 PM PST
Location
Victoria Event Centre 1415 Broad Street Victoria, BC V8W 2B2 Canada
About this event
Fatale Production Presents: Pasties & A G-String | A Burlesque Tribute To Tom Waits at the Victoria Event Centre
Thursday, December 8th | Doors: 7PM | Show: 8PM | 19+ | ID Required
🎟: https://pasties-and-a-g-string.eventbrite.ca
HOSTED BY: Daisy Scorcese
FEATURING: Bloody Betty, Melody Mangler, Dae LeeGrind, Meadow Phorical, Rosie Delight, PJ Bottoms, Salty Siren, Florence Fatale, Blush Broadway
≫ COVID Safety Info ≪
▪︎ Masks are optional in the venue.
▪︎ Beginning April 8th, proof of vaccination will no longer be required for entry.
▪︎ Unless otherwise noted at point of ticket purchase, seating is unassigned, and first come first served. If you're attending a seated event, please choose a location suited to your party size.
▪︎ Hand sanitizer is available at wall-mounted dispensers throughout the venue.
Read the VEC's full Covid safety info here:
https://victoriaeventcentre.ca/covid19/
In the event that public health restrictions prevent this event from going ahead, all tickets purchased for this event will automatically be valid for a rescheduled date.
≫ What To Bring ≪
▪︎ Please bring valid government issued photo ID for 19+ events, or for liquor service at family friendly events.
≫ Tickets ≪
▪︎ We do not offer refunds on tickets. If you need to sell your tickets, the best way is to reach out to your social circles or post in the Facebook event discussion.
▪︎ If you would like to transfer the ownership of your ticket to another person, you can do so from your Eventbrite account. See more on how to do this at: https://www.eventbrite.com/support/articles/en_US/Q_A/how-to-transfer-tickets-to-someone-else?lg=en_US
≫ Safer Spaces ≪
▪︎ At the VEC there is zero tolerance for any type of racist, sexist, ableist, fatphobic, transphobic or homophobic behaviour. By purchasing a ticket and attending this event, you agree to conduct yourself with the utmost respect for everyone at this event. In the event that you do not, you may be asked to leave without a refund.
▪︎ If you feel uncomfortable at any time, please let a VEC staff person know and we will try to support you in the best way possible.
≫ Land Acknowledgement ≪
▪︎ We would like to respectfully acknowledge that the territory on which this event takes place is on the traditional, stolen, unceded land of the Lekwungen and W̱SÁNEĆ peoples. We acknowledge the rich cultural history of the many peoples and rituals that have been affected by the ongoing process of dispossession and colonialism. We hold this understanding in our interactions and engagements with this land and its people.
≫ Accessibility ≪
▪︎ Our seating is a combination of high tables, bar stools, and cocktail tables with chairs. If you require assistance with this, please make a note when purchasing tickets or contact us at boxoffice@victoriaeventcentre.ca and VEC staff will do their best to accommodate.
▪︎ There are three multi-user, gender-inclusive bathrooms with stalls. One bathroom has a larger stall with its own sink and a grab bar (more details in the 'Bathrooms' section).
▪︎ The Victoria Event Centre currently does not have an operational elevator, and there is one long flight of stairs at the venue entrance. The only way into the VEC is up 27 wood stairs, 11″ deep, 6″ high. There are wooden 2.5" handrails 38" up the wall on each side of the staircase (54" apart, so not graspable on both sides at once. See further details in the 'Getting Inside' section)
▪︎ If you would like to attend the event but require assistance with accessing the space, please contact us at boxoffice@victoriaeventcentre.ca and VEC staff will do their best to accommodate.
▪︎ More detailed venue accessibility info is available at: