Pathway to Carbon Neutrality for Existing Buildings

Wednesday, 28 November 2018 from 7:00 AM to 4:00 PM (EST)
Event Details
Trane Eastern Canada is pleased to host the AEE Canada East for a full-day seminar focusing on Carbon Neutrality for Existing Buildings. 
We are in the midst of a climate imperative. This seminar will be structured to transfer a toolbox of strategies to participants. 
The seminar will include detailed sessions focusing on:
Opportunity Identification

Envelope 

Mechanical and Electrical Building Systems

Energy Storage

Big Data

Energy/Carbon Policy

Change Management
The seminar will provide a forum for learning and discussion. Join your leaders and your peers in a day promising an end to platitudes and a focus on solutions and strategies to move the needle - to make a difference.
| | | |
| --- | --- | --- |
| 7:00 AM | Registration |   |
| 8:00 AM | Opening Remarks |   |
| 8:15 AM | Session 1: Size of the Prize | The science is clear. As we position ourselves for the transition to a low carbon economy we need to establish a clear value statement. Where are we today and where to we need to be? What is our opportunity? |
| 9:00 AM | Session 2: Idea Identification | It starts with a plan. Learn how to evaluate existing buildings with the application of innovative engineering and analytical tools to create a low carbon plan. |
| 9:45 AM | Break and Networking |   |
| 10:15 AM | Session 3: Envelope | Envelope is more than windows and doors. How can we improve the performance of envelope systems while respecting building science and preservation guidelines? |
| 11:00 AM | Session 4: Plant Optimization | The heart of the building. How can the innovative application of technology achieve extraordinary results? Learn how to create hybrid systems through innovation and outside the box first principles engineering. |
| 11:45 AM | Lunch |   |
| 1:00 PM | Session 5: Energy Storage | Waste not, want not. Learn how to leverage energy storage (thermal and electrical) to enhance building performance. How can storage reduce plant size? How can storage relieve financial burden? |
| 1:45 PM | Session 6: Big Data – Building Intelligence | The true value of big data is in how you use it. Learn how the big data revolution is impacting building controls. Reporting success. Maintaining peak performance. |
| 2:00 PM | Break and Networking |   |
| 2:45 PM | Session 7: Policy as a Driver | How can policy shape our reaction to climate change and drive the transition to a low carbon economy? Top down through government or bottom up through organizations, policy has a role to play. |
| 3:30 PM | Session 8: Change Management | We have a plan. Success is within reach. How can you ease the transition for the occupant? Learn how change management can help ensure successful implementation of complex building transformations |
| 4:15 PM | Closing Remarks |   |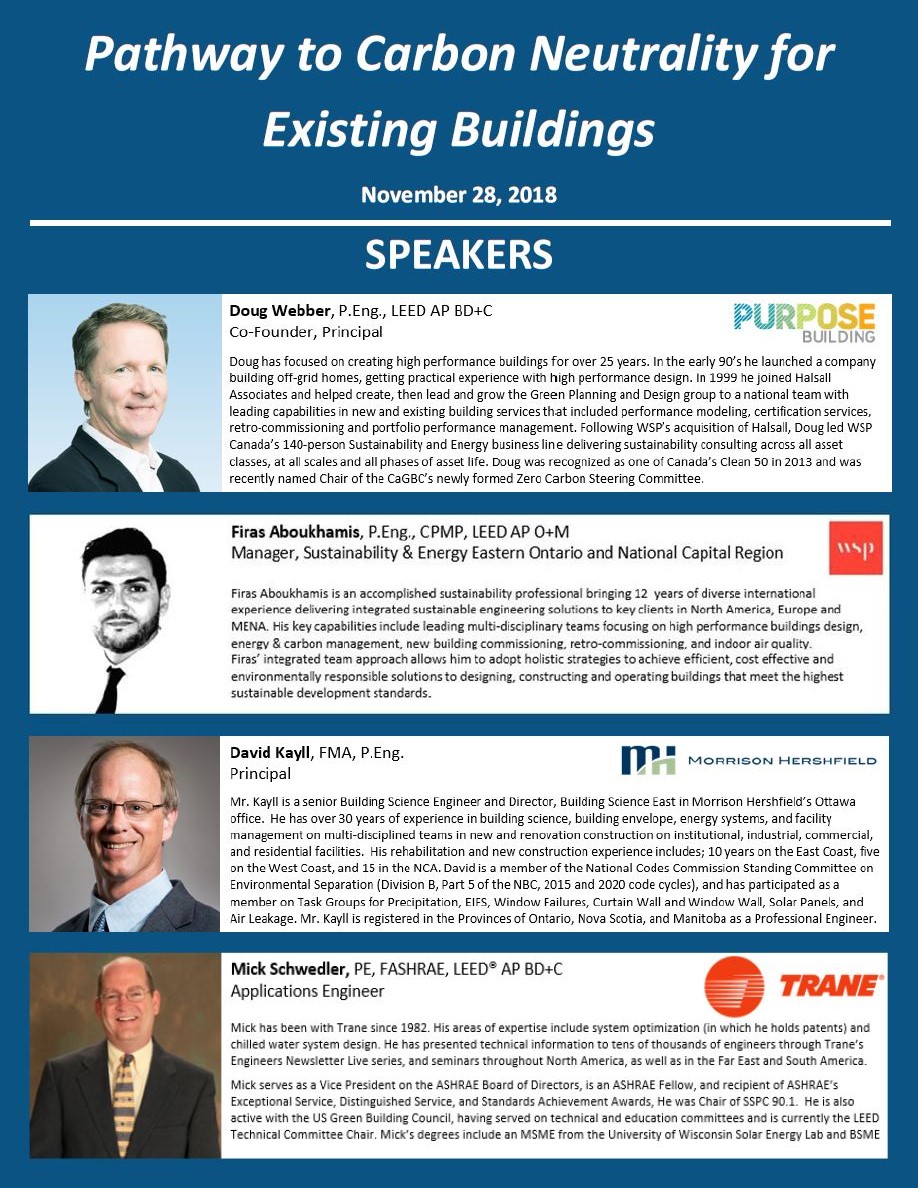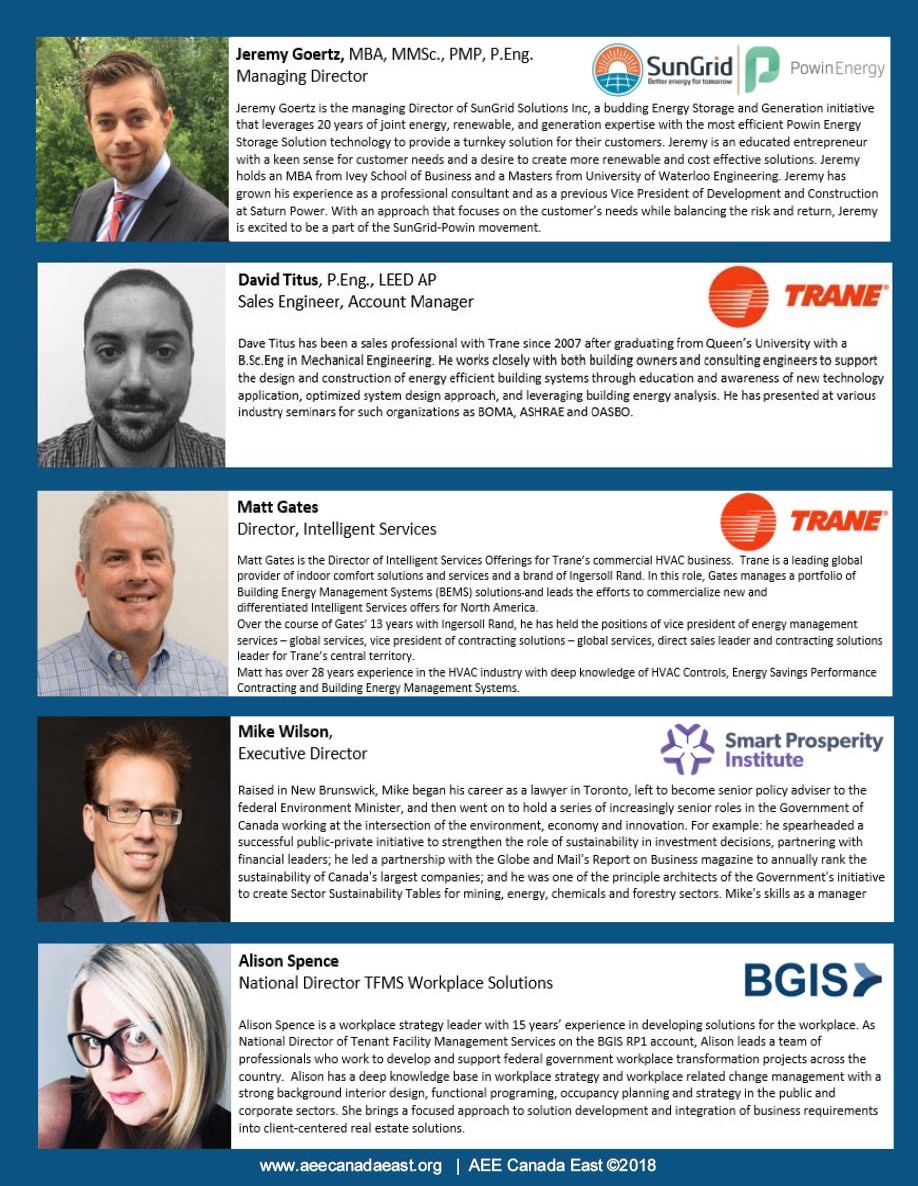 Join the fight on carbon.
Early Bird Pricing in effect until October 31.
When & Where

Ottawa Conference and Event Centre
200 Coventry Rd
Ottawa, ON K1K 4S3
Canada

Wednesday, 28 November 2018 from 7:00 AM to 4:00 PM (EST)
Add to my calendar
Organizer
AEE Canada East is a chartered chapter of the Association of Energy Engineers focused on connecting energy management professionals throughout Eastern Canada with a focus on continuous learning, thought leadership, and best practice sharing.