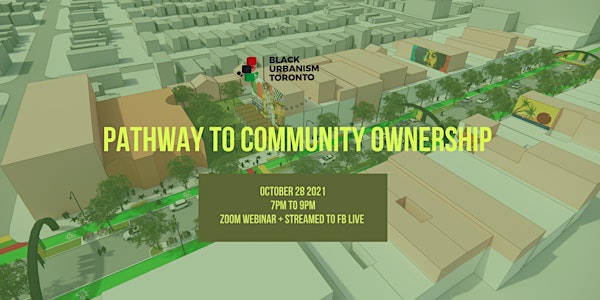 Pathways to Community Ownership
Pathways to Community Ownership Initiative
About this event
https://us02web.zoom.us/j/81826807708
For the past year, BUTO has been working on a community ownership model for the Little Jamaica community, and we have been successful in achieving initial funding from the Metcalf Foundation for this research for Eglinton West!
We are launching Phase 1 of this journey on October 28 from 7pm to 9pm. The first hour will consist of community leaders and performances by:
BrotherUnblind- Performing Libation Ceremony
Sam Carter-Shamai, Parkdale Neighbourhood Land Trust
Chiyi Tam, Organizer from FriendsofChinaTown
Community leader and legal expert Courtney Betty
Business owner, Junior Lewis
Special Virtual Performance from PANFANSTY
For the second hour, the BUTO will lead an orientation session on defining this project and what our next steps as a community need to be in order to achieve this reality for Little Jamaica!