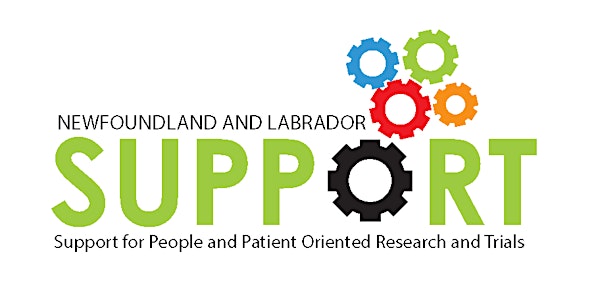 Patient Engagement and Ethics: An Online Panel Discussion 2022
Learn about ethical issues related to patient engagement in research in this interactive panel discussion.
About this event
Join NL SUPPORT for a 1-hour webinar exploring ethical issues related to patient engagement in research. This webinar is intended for a broad audience with an interest in ethics and patient engagement in health research including patient partners, researchers, Research Ethics Board members, health care professionals, decision-makers and trainees.
The session will:
Introduce contemporary issues in ethics of patient engagements, highlighting relevant CIHR materials related to ethics in health research;
Give participants the opportunity to engage with the broad ethical issues and provide feedback on the material presented;
Draw on panelists' experiences to identify ethical issues related to patient engagement in health research;
Answer attendees' pre-submitted questions related to patient engagement and ethics.
If you have questions or comments that you would like to be addressed during the panel discussion, please reach out to Julia Burt at juliaburt@mun.ca by January 19th, 2022.
Facilitator:
Julia Burt is the Patient Engagement/Training and Capacity Lead with NL SUPPORT, Newfoundland and Labrador's SPOR SUPPORT Unit.
Panelists:
Dr Samuel Ujewe is a Senior Research Ethics Advisor at the Canadian Institutes of Health Research (CIHR). His research and specialization are in Bioethics and Global Health Ethics, focusing on population health, global health inequities, indigenous health and social justice, cross-cultural bioethics and applied ethics. He is an independent Ethics Expert for the European Commission and was previously an ethics consultant to the Bill & Melinda Gates Foundation on health research and interventions in Sub-Saharan Africa and Asia. His recent publications include a co-edited book: "Socio-cultural Dimensions of Emerging Infectious Diseases in Africa: An Indigenous Response to Deadly Epidemics". Dr Ujewe has broad and diverse international experience, having lived, studied and worked in nine countries across the globe.
Cris Carter is a Patient Representative on the NL SUPPORT Advisory Council. She has an M.Ed. in Post-secondary Education from Memorial University and is a Certified Life Coach who has been a community volunteer since her retirement from Bell Aliant as an Operations Manager. She is a Community Representative on the Health Research Ethics Board (HREB) and sits on the Citizens Advisory Committee of the Canadian Institutes for Health Research (CIHR) and the STATSCAN Expert Advisory Committee on Population Health Statistics. Cris is currently engaged as a Patient Partner with several local research initiatives, including a patient oriented research project into the Impact of COVID on Long Term Care Patients and Their Families. She also co-delivered and facilitated the initial training to promote patient engagement for NL Support's SPOR Unit. Her interest in patient engagement stems from her engagement with the health care system in overseeing her aging mother's medical care.
Dr. Holly Etchegary is NL SUPPORT's Patient Engagement Academic Lead. She is a health and social psychologist and Associate Professor of Epidemiology in the Faculty of Medicine at Memorial University. Dr. Etchegary has extensive experience in conducting and advising on Patient-Oriented research and public engagement. She has a variety of research interests in the area of genetics health services and new genomic technologies such as genetic testing, in addition to the psychosocial effects and ethical implications of genetic risk, for both patients and families.