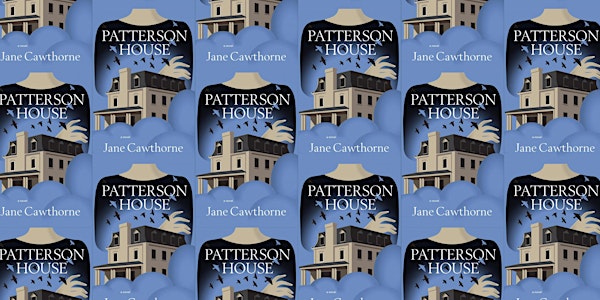 Patterson House Launch with Jane Cawthorne & Friends
Join us in-shop on October 19 at 7 p.m. (MT) to celebrate the launch of Jane Cawthorne's new book PATTERSON HOUSE!
When and where
Location
Glass Bookshop 10242 106 Street Edmonton, AB T5J 1H7 Canada
About this event
Join us in-shop on October 19 at 7 p.m. (MT) to celebrate the launch of Jane Cawthorne's new book PATTERSON HOUSE, published by Inanna Publications. Jane will be joined in conversation by Rayanne Haines and Sandra SG Wong.
.
.
COVID SAFETY MEASURES
All attendees will be required to wear a mask upon entering the shop for the health and safety of all community members.
PARKING & ACCESSIBILITY
Latitude 53 is located at 10242 106 St. in Edmonton. There are two parking stalls directly in front of the gallery entrance and additional street parking in front of the gallery along 106 St. Street parking becomes free after 6 p.m., unless there is an event taking place at Rogers Place the same evening. There are also multiple paid parking lots within one block of the gallery.
Latitude 53 is easily accessible by way of several ETS routes, including the 7, 110X, and 500X, and is located roughly three blocks south of the Corona LRT station.
The front door of the gallery is 35 inches wide. This is wide enough to accommodate most mobility devices, such as a walker or standard-sized wheelchair, but may be a tight squeeze for others.
All washrooms are gender-neutral, with multiple stalls sharing a sink space, as well as a separate, physically accessible single-stall washroom.
A detailed accessibility breakdown can be found here on the Latitude 53 website.
.
.
ABOUT THE BOOK
Tainted by the suicide of her long dead and scandal plagued grandfather, Alden Patterson wants two things: to regain what she sees as her rightful place in Toronto society and to do so without succumbing to the traditional role of wife and mother. But escaping such roles is almost impossible for a woman in 1916 and the history of the Patterson family and Patterson House haunts her. On the day she imagines her most ambitious plans will come to fruition, Alden unexpectedly becomes guardian to a foundling, Constance. Alden's dreams are further dashed when her father dies in the Spanish Flu epidemic and she learns that the family money is gone. Aided by a former member of the household staff and returning veteran, the horribly disfigured John Hunt, Alden takes in boarders to support this unlikely trio. When a mysterious new boarder, Carling Grant, arrives, Alden thinks he will save her, but his presence, the divisions he creates, and the secret he reveals puts everything Alden has at risk--her house, her identity, John Hunt, and even Constance.
ABOUT JANE
Jane Cawthorne writes about women in moments of crises and transformation. Her short stories and essays have appeared in newspapers, magazines, literary journals, scholarly journals and anthologies. She has edited two anthologies with E.D. Morin, Impact: Women Writing After Concussion, and Writing Menopause. Her debut novel, Patterson House, is set in Toronto, her birthplace, and a city dear to her even when she lives elsewhere. Jane spent decades active in the pro-choice and reproductive justice movement and is a former Women's Studies instructor as well as a former high school and middle school teacher. Her play, The Abortion Monologues, has been produced many times in Canada and the US and was once performed at the University of Texas, Brownsville as part of a Ford Foundation funded "Difficult Dialogues" initiative. She has an M.Ed. from OISE and an MFA in Creative Writing from the Solstice Program in Boston, MA. She lives in Victoria.
ABOUT RAYANNE
Rayanne Haines's writing has appeared in or is forthcoming from, Fiddlehead, Impact: The Lives of Women After Concussion Anthology, Voicing Suicide Anthology, The Selkie Resiliency Anthology, Freefall, Wax Poetry and Arts, Funicular, Lida Lit Mag and Indefinite Space. She is the host of the literary podcast, An Eloquent Bitch and is the Alberta NWT rep for the League of Canadian Poets. Rayanne is a 2019 Edmonton Artist Trust Fund Award recipient and was shortlisted for Edmonton poet laureate in both 2017 and 2019. Her poetry and prose have been shortlisted for the Canadian Authors Association Exporting Alberta Award and the John Whyte Memorial Essay Alberta Literary Award. Rayanne is a past executive director of the Edmonton Poetry Festival and an MA student at Queen Margaret University.
ABOUT SANDRA
Sandra SG Wong writes fiction across genres. She is a finalist for the Crime Writers of Canada Awards of Excellence and a nominee for the Whistler Independent Book Awards. She holds an honours BA in English literature and speaks four languages at varying levels of proficiency, though she usually only curses in one of them. Sandra lives in Edmonton, Alberta, and is too often tweeting from @S_G_Wong or tweaking sgwong.com instead of writing.