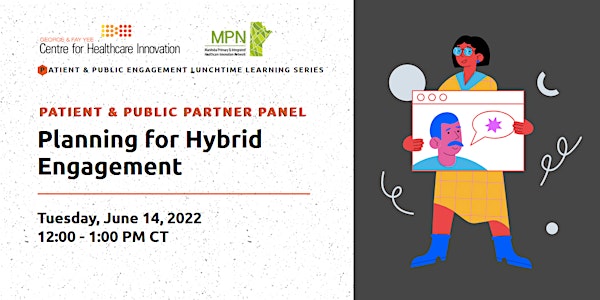 PE Lunchtime Learning: Partner Panel - Planning for Hybrid Engagement
Sales Have Ended
Registrations are closed
This webinar will be recorded and the video will be available on our YouTube channel.
Patient and public partners discuss planning for the move from online engagement to hybrid modes (mix of in-person & virtual)
About this event
This session is intended for intermediate learners.
This session is intended for intermediate learners. To prepare, please review the recording of Introduction to Patient Engagement on September 14, 2021: https://www.youtube.com/watch?v=OpKWmb46YXM&list=PLwqeP6dbRSC4gXNXC1CuaOJb-D4hQWLTY
Hybrid Models of Engagement
As we move to coming together in-person again, we need to consider the impact this has on engagement activities and the people involved. Many are considering (or have started) using hybrid models of engagement, that combine in-person and virtual strategies for meeting, discussing, and decision-making.
In this session, patient and public partners who work with the George & Fay Yee Centre for Healthcare Innovation and the Manitoba Primary and Integrated Healthcare Innovation Network will share their perspectives about how research and health services teams should approach the discussion of moving to hybrid models of engagement.
Learning Objectives
By the end of this session learners should be able to:
Describe what a hybrid model is;
Discuss the pros and cons of hybrid engagement with patient and public partners; and
Discuss important considerations for hybrid engagement with patient and public partners in their own work.
Speakers
This session features Thomas Beaudry, Paula Orecklin and Annabel Scott.
The 2021-2022 Patient Engagement Lunchtime Learning Series
Educational sessions, panel discussions, and case studies open to anyone interested in learning more about the principles and practice of meaningful, safe and inclusive patient and public engagement in health research.
In response to feedback from attendees, each session of this year's series is categorized into one of three levels. All are welcome to attend every session, though beginners will want to refer to preparation materials (videos and readings) to prepare for intermediate and advanced sessions.
Beginner: intended for those new to engagement and provide a basic understanding of patient and public engagement and its underlying principles.
Intermediate: intended for those with a basic understanding of the principles of engagement, with preparation materials provided to beginners who wish to attend.
Advanced: intended for those with hands-on experience in engagement who want to enhance their skills and knowledge of engagement, with preparation materials provided to beginners or those without hands-on experience who wish to attend.
CHI's Patient Engagement Team
The Patient and Public Engagement (PE) Team includes Carolyn Shimmin, Patient and Public Engagement Lead for CHI, and two Knowledge Brokers, Trish Roche and Ogai Sherzoi. The team works collaboratively with researchers, clinicians and students to support the meaningful and active involvement of patients, caregivers, families, communities, and members of the public in health research projects and programs. This includes direct support for development and conduct of engagement activities with diverse groups, facilitating relationships, and the development and delivery of resources, training, and education.
Accreditation
The CHI Patient and Public Engagement Lunchtime Learning Series is a self-approved group learning activity (section 1) as defined by the Maintenance of Certification program of the Royal College of Physicians and Surgeons of Canada. This session may also be eligible for credits with other professional bodies. This series is accredited for a maximum of 10 hours (1 hour per session) and participants will only receive credit for sessions they attend. Certificates of completion are issued annually.