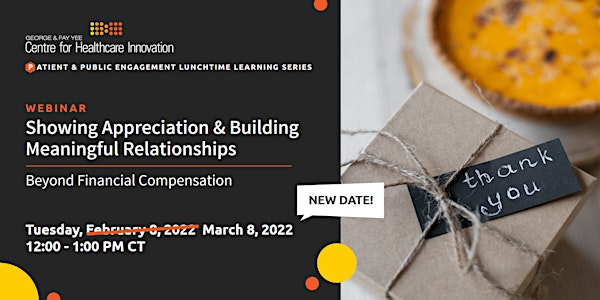 PE Lunchtime Learning: Showing Appreciation & Building Relationships
Sales Have Ended
Registrations are closed
This webinar will be recorded and the video will be available on our YouTube channel.
Advanced session focusing on ways of showing appreciation and valuing partner contributions that extend beyond financial compensation.
About this event
This session is intended for advanced learners.
This session is intended for advanced learners (though beginners and intermediate learners are welcome). The session will involve small group breakout discussions about challenges, opportunities and experiences related to non-monetary appreciation of partner contributions.
Beginners should review the recording of Introduction to Patient Engagement on September 14, 2021: https://www.youtube.com/watch?v=OpKWmb46YXM&list=PLwqeP6dbRSC4gXNXC1CuaOJb-D4hQWLTY.
Beginner and intermediate learners who do not have knowledge or experience of providing financial compensation, covering/reimbursing costs, the potential implications of paying partners, and reasons partners may choose non-monetary forms of compensation should review the following resources before attending:
Non-Monetary Ways of Showing Appreciation
Engaging with patients, families, caregivers, and members of the public in decision-making about health research and/or services in a meaningful way involves demonstrating appreciation and value for their time, energy, expertise and other contributions. Ideally, this means ensuring partners are financially compensated and costs for involvement are covered up front or reimbursed. However, financial compensation isn't (and shouldn't be) the only way to show appreciation and value contributions in the relationships developed between researchers, health systems professionals, and patient and public partners.
In this session, CHI's Patient Engagement team will share ideas and practical ways to show patient and public partners that their contributions, insight, experience and involvement as individuals is valued and appreciated that go above and beyond simply paying people. Attendees will have the opportunity to discuss, in small groups, some of their own challenges and opportunities related to putting these ideas into practice. Information shared will draw from learnings from the PE Team's work with health researchers and systems professionals, as well as guidance provided by members of CHI's Patient Engagement Champions program and CHI's Patient and Public Engagement Collaborative Partnership.
Learning Objectives
By the end of this session learners should be able to:
Describe methods for building and maintaining meaningful relationships with patient and public partners in health research and services work that extend beyond financial means;
Discuss challenges and opportunities for developing and implementing appreciation guidelines in their own context; and
Implement methods to show appreciation for partners' contributions in non-monetary ways.
The 2021-2022 Patient Engagement Lunchtime Learning Series
Educational sessions, panel discussions, and case studies open to anyone interested in learning more about the principles and practice of meaningful, safe and inclusive patient and public engagement in health research.
In response to feedback from attendees, each session of this year's series is categorized into one of three levels. All are welcome to attend every session, though beginners will want to refer to preparation materials (videos and readings) to prepare for intermediate and advanced sessions.
Beginner: intended for those new to engagement and provide a basic understanding of patient and public engagement and its underlying principles.
Intermediate: intended for those with a basic understanding of the principles of engagement, with preparation materials provided to beginners who wish to attend.
Advanced: intended for those with hands-on experience in engagement who want to enhance their skills and knowledge of engagement, with preparation materials provided to beginners or those without hands-on experience who wish to attend.
CHI's Patient Engagement Team
The Patient and Public Engagement (PE) Team includes Carolyn Shimmin, Patient and Public Engagement Lead for CHI, and two Knowledge Brokers, Trish Roche and Dianna Dandeneau. The team works collaboratively with researchers, clinicians and students to support the meaningful and active involvement of patients, caregivers, families, communities, and members of the public in health research projects and programs. This includes direct support for development and conduct of engagement activities with diverse groups, facilitating relationships, and the development and delivery of resources, training, and education.
Accreditation
The CHI Patient and Public Engagement Lunchtime Learning Series is a self-approved group learning activity (section 1) as defined by the Maintenance of Certification program of the Royal College of Physicians and Surgeons of Canada. This session may also be eligible for credits with other professional bodies. This series is accredited for a maximum of 10 hours (1 hour per session) and participants will only receive credit for sessions they attend. Certificates of completion are issued annually.