Peace by Chocolate: A Discussion with Jon Tattrie and Tareq Hadhad
Jon Tattrie, author of Peace by Chocolate, and Tareq Hadhad CEO of Peace by Chocolate, in conversation. Tears, laughter, love, peace. Enjoy!
About this event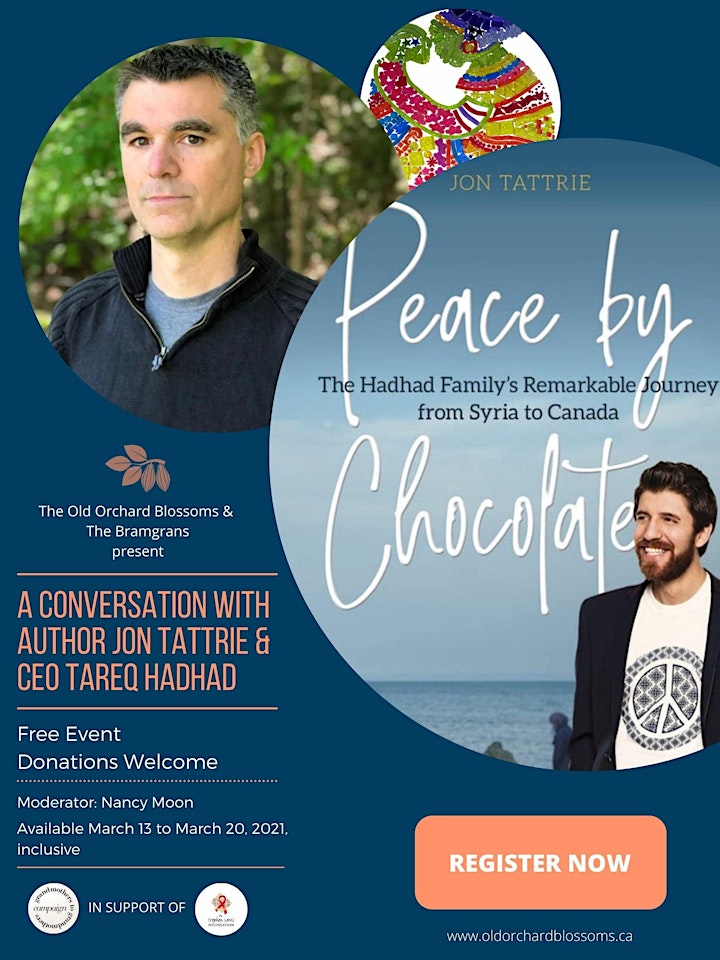 Jon Tattrie's new book, Peace by Chocolate: The Hadhad Family's Remarkable Journey from Syria to Canada tells the true story of the Hadhad family, who lost everything in the Syrian war and arrived as refugees in Antigonish NS, where they rebuilt their chocolate business. This is a wonderful feel-good story about a town, its people and a family determined not only to build their life again but also to give back to the community and country which welcomed them.
This pre-recorded event will be available to watch from March 13, to March 20, 2021, inclusive. A link will be sent out to all registrants about 1 week before the start date.
Jon Tattrie is the author of six non-fiction books (including a Canadian best seller) and two novels. He works as a journalist for CBC News and has taught journalism at the University of King's College and fiction writing at Dalhousie University.
Tareq Hadhad is the CEO and Founder of Peace by Chocolate. Tareq has spoken extensively – including appearances at Amnesty International's Human Rights Conference, TEDx events, the World Bank, and the OECD. Passionate about peace and entrepreneurship, Tareq has a focus on job creation and is a board member at Invest Nova Scotia.
Our moderator for the event will be Nancy Moon, a retired teacher, a voracious and discerning reader, a sponsor of a refugee family from Eritrea, a member of an Amnesty International Action Circle and a lover of chocolate. She is a member of the BramGrans grandmother group, one of the organizers of this event.
We know you will enjoy this discussion. You do not have to have read the book beforehand to enjoy it, however we are sure that you will want to afterwards. You can buy your own copy of the book Peace by Chocolate from your nearest independent bookstore or from the Peace by Chocolate company when you order a piece of chocolate (or more!) Their motto is One peace won't hurt. https://peacebychocolate.ca/
This event is a fundraiser. Jon Tattrie's books have helped raise a church and topple a statue. And now Peace by Chocolate is going to help raise money for African grandmothers who are caring for their grandchildren orphaned by the AIDS pandemic, and now also coping with the COVID-19 pandemic. There is no cost to register or to attend the event, however we invite you to make a donation to the Stephen Lewis Foundation's Grandmothers Campaign . (Link below)
Your contributions will ensure that vital programs will be sustainable for the African grandmothers and their grandchildren. Donations of $20 or more will receive a tax receipt directly from the Stephen Lewis Foundation.
To DONATE to the African Grandmothers: https://slf.akaraisin.com/grandmotherspledges2021/peacebychocolate
Thank you for your generosity. The Old Orchard Blossoms and BramGrans grandmother groups.