About this Event
We all know this year marks Manitoba's 150th birthday, but how many of us really know the people and places that led to our province's foundation?
This family-friendly ride along the scenic Red & Assiniboine Rivers will introduce you to the remarkable characters and exciting events that helped our home take shape.
Curator of Seven Oaks House Museum, Eric Napier Strong, is our guide for the Pedal into History - Birth of a Province tour.. Drawing on his deep historical expertise, Eric will share Winnipeg's early history with us as we follow one of the city's most scenic rides along the Red River. The tour will help you better understand:
Our local history before we became Manitoba
The historical architecture of our downtown
The differing cultures and perspectives of English and French Metis communities
The impact of Canadian colonialism on local ways of life
The Pedal into History - Birth of a Province tour starts at the Oodena Circle at the Forks (behind the Johnston Terminal) and runs for about 1.5 hours, ending at the Legislative Building (450 Broadway). You can choose to leave directly from the end point, or join Bike Winnipeg's ride marshals in a group ride back to our starting point if you'd prefer.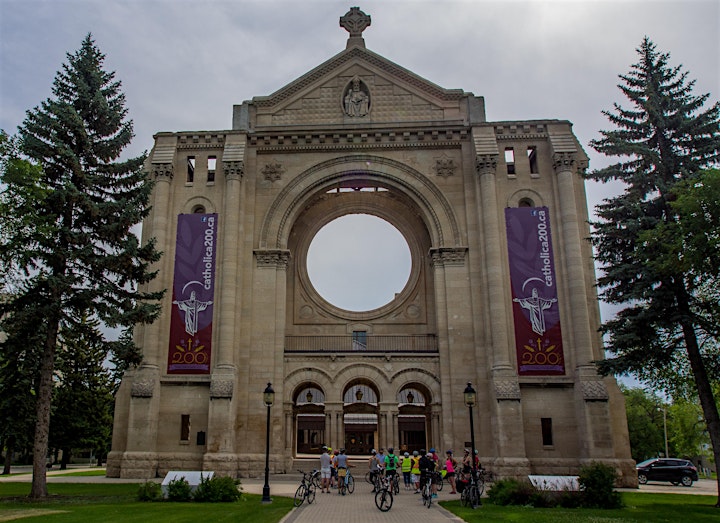 About the Pedal into History Ride Series
Pedal into History is a series of group bike rides focused on Manitoba's rich history. Curator of Seven Oaks House Museum, Eric Napier Strong, has drawn deeply on his historical expertise to develop a series of routes exploring different areas of Manitoba's early history. Ride participants are guided between historic sites by bicycle, and treated to in-person interpretation relating to the history of each site, local community and early Manitoba.
All rides are planned to maximize your comfort, and are casually paced and supported by Bike Winnipeg's team of ride marshals to help keep us moving and safe. Ride lengths vary, but tours will generally last 1 ½ to 2 hours.
We will have one shorter ride, the Manitoba 150 ride, focused around The Forks and presented three times over the season, and three community museum rides that will focus on a more localized history and will only be presented once this season.
Development and presentation of the Pedal into History rides has been partially funded with a grant from the Manitoba Government. We are grateful for their support.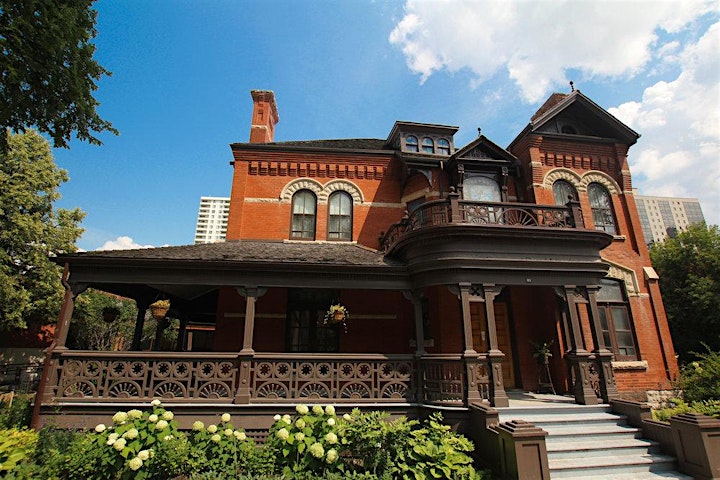 COVID-19 Precautions
To help ensure the safety of our ride participants, volunteers, and staff, we will be asking everyone to maintain a 2m distance between each other at stops and while riding. Sites have been selected to ensure space for social distancing, and we have limited ride sizes. If you are experiencing any symptoms, we ask that you please stay home. We will be more than happy to provide a refund. Finally, please note that we are not requesting the mandatory use of masks during our rides.
Upcoming Pedal into History Rides
Pedal into History - Ride the Red is just one of the rides we will be presenting as part of our Pedal into History series. Look for upcoming rides on the following dates:
Sunday, July 12th - 9:30am - 11:30am - Ride the Red/Seven Oaks House Museum
Sunday, July 19th - 1:30 pm - 3 pm - Manitoba 150
Sunday, August 9th - 9:30am - 11:30am - St. James
Thursday, August 20th - 7pm - 8:30pm - Manitoba 150
Sunday, September 6th - 1pm - 3pm - St. Norbert
Sunday, September 20th - 1:30 pm - 3 pm - Manitoba 150
We'll have more information on upcoming Pedal into History rides in the near future.