Pedal Into History: Wrong Side of the Tracks
A casually-paced tour will take us north of the tracks, a symbolic barrier that created major social divides still felt in Winnipeg today.
When and where
Location
St. John's Park 1231 Main St Winnipeg, MB R2W 3S8 Canada
Refund Policy
Refunds up to 1 day before event
Eventbrite's fee is nonrefundable.
About this event
The Pedal into History - Wrong Side of the Tracks bike tour starts from St. John's Parkl (Mountain Ave @ Main Street) and runs for about 1 1/2 to 2 hours. Total distance travelled will be about 10km. Participants will need their own bikes in good working order.
Pedal Into History: Wrong Side of the Tracks
Winnipeg's North End has a reputation for being tough, but it's also home to a fierce community pride. This area was literally on the wrong side of the tracks from our urban core, and the symbolic barrier created major social divides that are still felt today.
The North End has also been a mosaic of cultural diversity from its earliest days. Out of the early foundations laid by Jewish, Polish, and Ukrainian immigrants, the community has developed a unique identity that has given birth to strong political and social movements. The area's historic architecture will help us trace the evolution of this identity as the community changed and spread north into the affluent suburb of St. John's.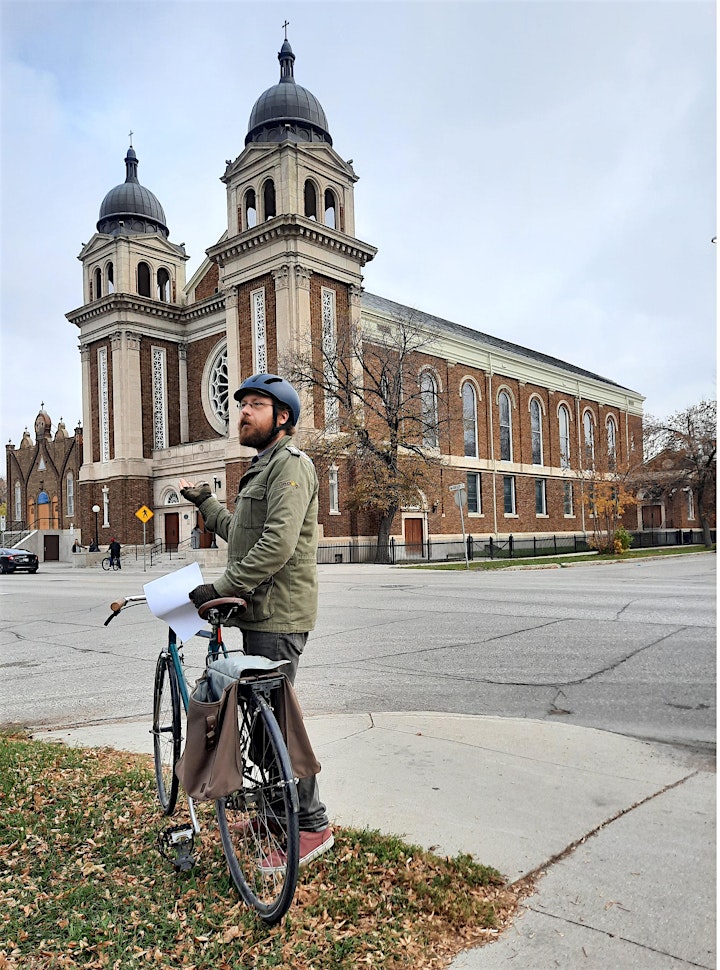 About the Pedal into History Ride Series
Pedal into History is a series of group bike rides focused on Manitoba's rich history. Curator of Seven Oaks House Museum, Eric Napier Strong, has drawn deeply on his historical expertise to develop a series of routes exploring different areas of Manitoba's early history. Ride participants are guided between historic sites by bicycle, and treated to in-person interpretation relating to the history of each site, local community and early Manitoba.
All rides are planned to maximize your comfort, and are casually paced and supported by Bike Winnipeg's team of ride marshals to help keep us moving and safe. Ride lengths vary, but tours will generally last 1 ½ to 2 hours.
We will have one shorter ride, the Birth of a Province ride, focused around The Forks and presented three times over the season, and four community museum rides that will focus on a more localized history and will only be presented once this season.
Development of the Pedal into History rides has been partially funded with a grant from the Manitoba Government. We are grateful for their support.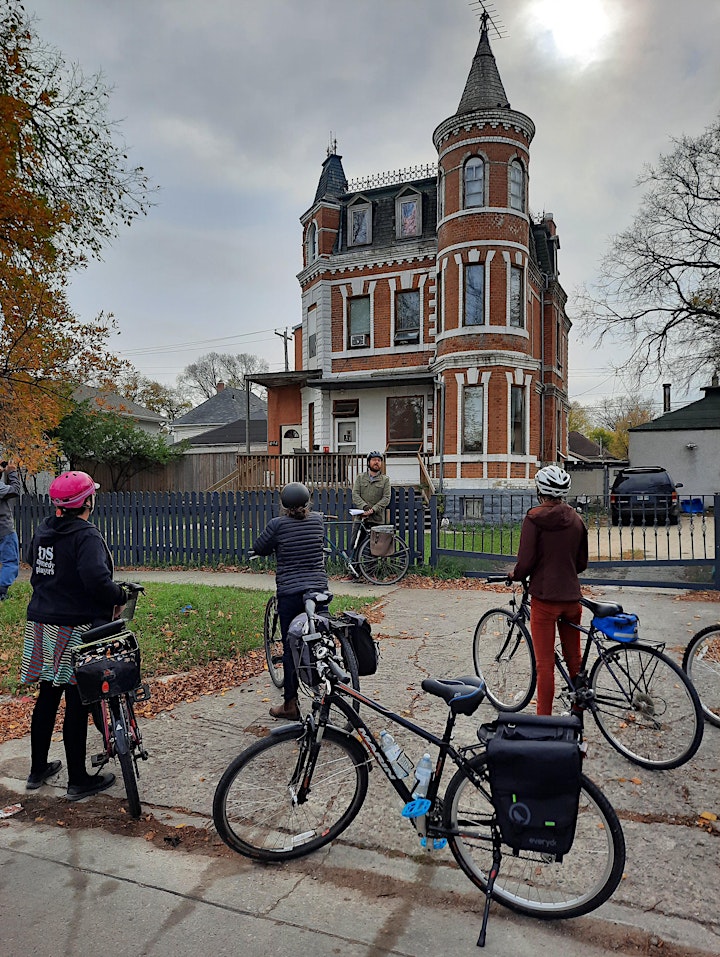 Upcoming Pedal into History Rides
Pedal into History - Ride the Red is just one of the rides we will be presenting as part of our Pedal into History series. Look for upcoming rides on the following dates:
Sunday, June 26 - 1:30 pm - Power & Politics
Sunday, July 17 - 9:30 am - Birth of a Province - 1 ½ hrs -
Saturday, August 6 - 1:30 pm - Ride the Red
Thursday, August 18 - 7:00 pm - Birth of a Province
Sunday, September 18 - 1:30 pm - Wrong side of the Tracks
Wednesday, September 21 - 6:30 pm - Across the Assiniboine
Saturday, October 1 - 1:30 pm - Ride the Red