Get on your bike for this exploration of our city's natural heritage. Learn about the landmarks that span our waterfront.
About this event
Get on your bike for this exploration of our city's waterfront heritage. Enjoy a leisurely cycle along the shoreline – experiencing the parks, beaches, and landmarks that span Toronto's lakeside trails.
Starting Location: 1389 Lake Shore Boulevard West (West side of tennis courts at Marilyn Bell Park); Nearest Bike Share: Marilyn Bell Tennis Court
End Location: 3 Leslie Street (Visitor's Pavilion Entrance at Tommy Thompson Park)
Cycling tours last approximately 2 hours.
We are excited to host in-person tours again and ask for your help and patience in making the experience as safe as possible for everyone. All tour events will follow Toronto Public Health guidelines and enhanced Heritage Toronto safety measures.
Please note: This is a cycling tour that will take place along public cycling paths. Participants will need to bring a bicycle to participate. Participants can also rent a bicycle for the duration of the tour using the City of Toronto's Bike Share program.
The nearest Bike Share station to the start of the tour is at the Marilyn Bell Tennis Courts. At the end of the tour, participants can return their rentals at the Bike Share station at the Visitor's Pavilion Entrance at Tommy Thompson Park.
For everyone's safety, we ask that all participants wear a helmet when cycling during the tour.
About your tour leader: Steven Kellier is Heritage Toronto's Public Programs Coordinator and the creator of the Pedalling the Parks tour. Steven recently received a Master of Arts from the University of Leicester's School of Museum Studies, and has contributed to public programs at Toronto's Bata Shoe Museum, Black Creek Pioneer Village, and Heritage Park Historical Village in Calgary.
This tour is led and was developed by an Emerging Historian. Learn more about Heritage Toronto's Emerging Historian program and its supporters.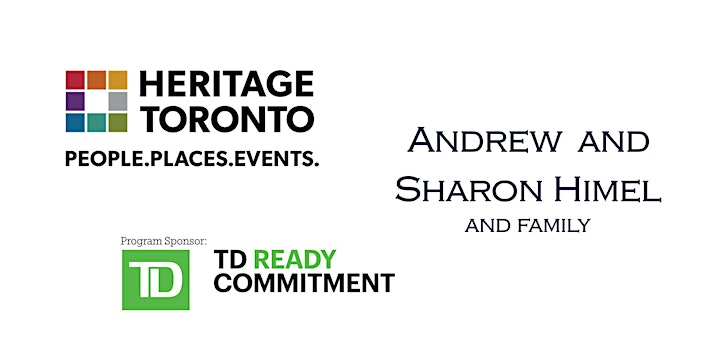 Organizer of Pedalling the Parks: Toronto's Waterfront Heritage (CYCLING TOUR)
Heritage Toronto is a charity and agency of the City of Toronto that celebrates and commemorates the city's rich heritage and the diverse stories of its people, places, and events. Through our programs, including walking tours, State of Heritage Report, and historical plaques, we engage the public to reflect on the past—both to make sense of our present and to inform our future.