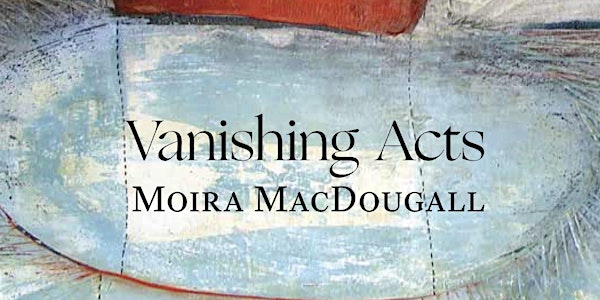 PEDLAR PRESS presents: VANISHING ACTS, new poetry by Moira MacDougall
Book Launch & Signing
When and where
Location
YMCA of Greater Toronto Grosvenor St. Central Auditorium 20 Grosvenor St. Toronto, ON M4Y 2V5 Canada
About this event
Please join Pedlar Press in celebrating the launch of Moira MacDougall's VANISHING ACTS.
There are times in one's life when the pain will not stop, when it seems everyone you love is hurting, and some are dying. Moira MacDougall's second collection of poetry, VANISHING ACTS, speaks to us from here, where she sits "in grief's debris." An unflinching correspondent of the hard labour of dying, and of the "heart of the medical labyrinth! Ugly thing it is – and dull," MacDougall questions the small chaos of our lives and the delicate ways we remain alive against a background of swirling eternity.
Pedlar poet Ronna Bloom will host the evening. Readings by Moira MacDougall, Ronna Bloom, and others to be announced. Cash bar. All are welcome.
Praise for VANISHING ACTS:
"For a poet to really get to the heart of loss, one has to suffer much; one needs a range of texts to triangulate personal pains with that of mythic figures; and one needs talent. In Vanishing Acts, Moira MacDougall harnesses the grief from cancer survivorship, the witness of many deaths in her family, and transforms these circumstances into intertextual song. As "Shanks, Femurs, and Shoulder Blades" puts it, MacDougall's poems "embrace your bones."" 
— Shane Neilson, Poet, MD/PhD
"Moira MacDougall's poems consider cancer's ravages in monologic and dialogic gambits by turn intimate, raw, civil, or aesthetically distant. The voice in this book twists and turns, "night to night" while the narrative is clad in the inexorable mantle of Greek tragedy. Stages of disease act as a metaphor for a teeming life, and the poet reckons with fate's endgames and the destruction of her own body and the bodies of several family members. Although it is possible to "turn inside machines that launch you to the stars without a parachute," the mortal anchors of illness are apparent in almost every line. This moving book forces us to weigh our relationships with our family and ourselves in a ubiquitous and terrible framework we sense as the passage of time."
— Nyla Matuk, author of Sumptuary Laws, 2012 and Stranger, 2016.
"Speaking with the stately magnificence of the survivor's voice, Moira MacDougall makes a profound reckoning in Vanishing Acts.  With classical echoes, philosophical consolation, formal invention, and a wicked sense of humour, the poet turns a shocking situation — four deaths in a family — into a comprehensible one.  Using her genius for point of view and stunning metaphors, MacDougall expands and collapses time in these Keats-inspired poems, leading us through worlds of love and death to the strength of this book's all-important last words:  'I'm here.'"
— Molly Peacock, author of The Analyst