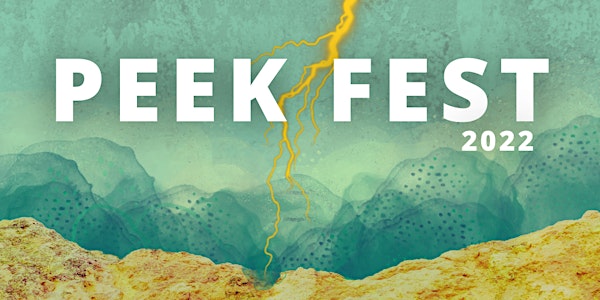 Peek Fest 2022
​Impulse Theatre's Peek Fest is an annual live performance festival for arts workers running from November 1st to 19th, 2022
When and where
Location
Intrepid Studio / on Zoom 2-1609 Blanshard Street Victoria, BC V8W 2J5 Canada
Refund Policy
Refunds up to 1 day before event
Eventbrite's fee is nonrefundable.
About this event
ABOUT THE FESTIVAL
​Impulse Theatre's Peek Fest is an annual festival on Lekwungen Territory/Victoria running November 1 to 19, 2022.
The festival offers an exciting new look at work-in-development from some of the province's most innovative creators and contributes to the development and growth of local arts workers through showcases, workshops, and community events.
TICKETS & REGISTRATION
Tickets to Shows, Panels and Workshops are available online. Tickets to the Shows and Workshops will also be available at the door. Workshops are limited, and we encourage booking in advance.
Note: online ticket sales end one hour prior to the event. Ticket sales for the Conversations will close five minutes prior to the start of the show.
THE WORKSHOPS
SET DESIGN - INSPIRATION FROM LIMITATION, COLOUR THEORY AND MATERIAL EXPLORATION with Shizuka Kai
Thursday November 3rd, 6PM - 10PM / $40
Explore the nature of set design in this three-part workshop from multidisciplinary artist Shizuka Kai. The workshop begins with Inspiration from Limitation, where folks will create mock set designs on a double-sided sheet of paper, following a single parameter chosen out of a hat. Part two, Colour Theory, explores the basics of colour theory in the creation of a moodboard with online tools. And part three, Material Exploration brings these learnings into the concrete, where participants will be given a single type of material in which to mock up a set design.
Workshop Participants are invited to bring:
their preferred note taking equipment (laptop, notebook, etc)
a glue gun (recommended, not required)
pencils and erasers
exacto knives or box cutters
a water bottle and snack for break
INTERDISCIPLINARY CREATION AND COLLABORATION with Amber Downie-Back and Angus Gaffney
Saturday November 5th - 11AM - 4PM / $50
How do we blur the lines between disciplines? What is it to leave your project's discipline undefined? How can we use imagery and other creative tools to build a common language between mediums? Bring your near and dear ideas; we will use improvisational methods to investigate the ins and outs of creative collaboration & composition. This workshop will outline movement- and sound-specific approaches before combining them and opening the floor to explore your own ideas!
Workshop participants are invited to bring:
a water bottle, clothes that you feel comfortable moving in, and a notebook or phone, (etc.) to record with
Voices, instruments, musical objects, and sound-making devices are all welcome but optional
Bring yourself and if you have any near and dear ideas (themes, material, objects, videos/ audio recordings, writing etc.), drinks/food
Special Notes & Considerations:
No dance experience required. Proficiency not required! Items will be accommodated as far as the space will allow. Ideas not required!
CREATIVE ADMINISTRATION with Nicole Malcolm
Thursday November 10th, 6PM - 10PM / $40
Being an artist is an entrepreneurial pursuit. The skills and personal tools necessary to succeed are unique and highly sought after, both inside and outside of the creative field, but artists often lack the language to articulate the administrative work that they do, leaving opportunities untapped. In this workshop, we will discuss practices in arts administration, share resources for ongoing professional development, and build a sense of empowerment around your administrative prowess.
Workshop Participants are invited to bring:
writing tools, water bottle
CONVERSATION SERIES
CONVERSATION #1: Playwriting Support: Engaging Community as a Dramaturgical Tool with Davey Samuel Calderon and Kayleigh Sandomirsky
Tuesday November 1st, 7PM PST VIRTUAL (on Zoom) / by donation.
Join a conversation with Davey Samuel Calderon (Playwrights Theatre Centre's Dramaturg, Public Engagement) on the possibilities community-engaged playwriting or theatre creation can yield for theatre artists. Drawing from Davey's experience as both dramaturg and playwright, learn how to create support networks and key relationships with community when creating a new socially-conscious theatre project. Featuring Davey's current work in development using community-centred values, Deep Fried: A Pinoy Musical!, discover the communities that can inspire you in your next play.
CONVERSATION #2: Arts Marketing 101: How to Get Butts in Seats with Linda Pitt and Kayleigh Sandomirsky
Tuesday November 8th, 7PM PST VIRTUAL (on Zoom) / by donation.
What do the behind the scene arts jobs entail? Who gets an audience out to see the show and how do they do it? Arts marketing and communications specialist Linda Pitt gives you an insight into the life of an arts administrator while offering marketing and communication tools and tips for your next production.
THE SHOWCASES
DANCE INCUBATOR SHOWING featuring Amber Downie-Black
Saturday, November 12, 7:30PM / PWYC ($5, $10, or $15)
The Dance Incubator is a residency program that supports contemporary dance projects, providing the artists with studio space and technical support to explore their movement practice.
This year's Dance Incubator is Amber Downie-Back's "on the nature of…" The showing will consist of an installation, performance, and conversation.
For more information go to: www.impulsetheatre.ca/dance-incubator
WEE PEEKS RESIDENCY SHOWING featuring Erica Petty
Sunday November 13th, 11:00AM / PWYC ($5, $10, or $15)
The Wee Peeks Residency provides a tailored artistic and administrative residency and mentorship for new works for young audiences.
One of this year's Wee Peeks residency artists is Erica Petty with her work for babies, "Sound Garden". The piece is an interactive installation and experience for babies.
For more information go to: www.impulsetheatre.ca/wee-peeks-residency
PEEK SHOW 13
Friday, November 18, 7:30PM / PWYC ($5, $10, $15, or $20)
Peek Show is an informal and exciting experience between artists and patrons, all discovering new stories and worlds for the first time. Peek Show showcases new works from local performing artists, from text, to dance, to somewhere in-between.
Artist Announcement coming soon.
For more information go to: www.impulsetheatre.ca/peek-show
ACCESSIBILITY
Impulse Theatre seeks to create an anti-oppressive and anti-discriminatory space for all arts workers. We aim to have a wide variety of access options available for artists, audiences, and participants throughout the Festival.
CONVERSATION SERIES
The Conversation Series takes place online on Zoom. You have to register in advance. You'll have to Zoom to participate, but you won't need to have your own account. Ensure your Zoom is up-to-date.
PERFORMANCES & WORKSHOPS
Residencies and workshops take place at the Intrepid Studio (2-1609 Blanshard St.). The venue is wheelchair accessible and has one wheelchair accessible washroom. Both washrooms are all-gender. The lobby is fully wheelchair accessible. The stage is on one level and is wheelchair accessible.
For more information about Peek Fest Accessibility, please visit: www.impulsetheatre.ca/accessibility
PEEK FEST ACCESS PROGRAM
Impulse Theatre is pleased to offer up to 3 spots in each workshop free of charge to arts workers who identify as queer, trans, non-binary, Indigenous, Black, a person of colour, neurodiverse, d/Deaf and/or disabled.
For more details & to register for the Peek Fest Access Program, please click here.
SCENT REDUCED SPACE POLICY:
As some attendees experience severe scent sensitivities we ask that individuals attend these events as scent free as possible. This means where possible no perfumes, colognes, hairspray, scented creams and deodorants, or essential oils.
Impulse Theatre lives and creates on the traditional and unceded territory of the Lekwungen Speaking Peoples, now known as the Songhees and Esquimalt Nations.