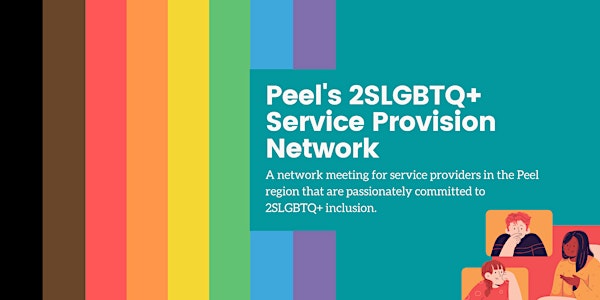 Peel's 2SLGBTQ+ Service Provision Network
A network meeting for service providers in the Peel region who are passionately committed to 2SLGBTQ+ inclusion.
About this event
Due to COVID-19, these meetings will take place online for the time being. A Zoom link will be sent to all participants registered the week of the meeting. Please contact Allegra Morgado, 2SLGBTQ+ Special Projects Coordinator, at allegram@moyohcs.ca with any questions.
Purpose
• To build the capacity of service providers across the Peel region to serve diverse 2SLGBTQ+ communities
• To provide a space for service providers to have a dialogue about barriers to 2SLGBTQ+ inclusion in their respective organizations and engage in collective resource and knowledge mobilization
• To communicate the activities of the 2SLGBTQ+ collaborative to service providers
• To build up a network of 2SLGBTQ+ champions in the Peel region
Who
• This network is intended for service providers that are committed to the inclusion of 2SLGBTQ+ individuals. This may include:
- Service providers that currently provide services to 2SLGBTQ+ communities
- Service providers that are interested in developing and providing these services
- Service providers that identify as 2SLGBTQ+ community members
We recognize and welcome the varying levels of experience and knowledge with 2SLGBTQ+ communities!
Note: Our next meeting will take place Friday, April 22nd from 10am-12pm. A portion of this meeting will be dedicated to planning & brainstorming for this year's Peel Pride!