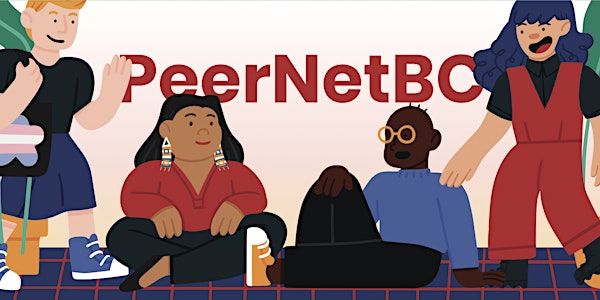 PeerNetBC 2021/22 Annual General Meeting & Community Get Together
PeerNetBC 2021-2022 AGM & Community Get Together. Collaborate with us and support the future of what PeerNetBC looks like.
About this event
The PeerNetBC office is located on the traditional, unceded territories of the sḵwxwú7mesh (Squamish), selílwitulh (Tsleil-Waututh), and xwməθ kwəyəm (Musqueam) nations. We acknowledge our complicity in the on-going occupation of stolen Indigenous lands.
We remain grateful toward, and in solidarity with Indigenous project partners, consultants, and program participants we are honoured to work with. Now that we connect digitally from our homes, our team also acknowledges that we work and live as uninvited guests and settlers (both racialized and white) across many unceded ancestral Coast Salish homelands and territories.
We encourage everyone non-Indigenous that visits with us to find out on whose territories you are an uninvited settler, and reflect on what it means to be "here" and call it "home."
Finally, we also acknowledge that such words are important but insufficient, always at the risk of becoming a tokenized practice. So, to help this practice remain current, alive, engaged, we set aside time at the start of every meeting, event, and workshop — including this event — to center stories of cultural resilience, current news and events, amplify Indigenous social media content and share calls for action etc. We also continue to reassess our role and work as a non-Indigenous organization on stolen lands.
About the Annual General Meeting
Join us for a night of community, appreciation, engagement, and celebration! Under the theme of embracing new changes, PeerNetBC will be discussing our full shift to a collaborative structure. We will also be sharing other project highlights.
We remain deeply grateful to Elder Roberta Price for her guidance and support of our organization. She will be ground us at the start of the meeting for yet another year!
We will also be going over our 2021-22 Annual Report featuring reflections from our board and staff. In addition, we will go over official AGM business, including elections for our Board of Directors, if any. There is at least one vacancy, so if you or someone you know is interested, please reach out at: info@peernetbc.com and see more information below.
There will also be some fun prize draws + plenty of laughter.
This is an exciting time for the team at PeerNetBC and we are eager to share our excitement with our community. We wish to reflect on the work we have done in the last year, and continually improve our work going forward. Your support, feedback, and voice, are welcomed. We hope to see you there!
What to expect:
We will meet together on "Zoom." Zoom is video conferencing application that is free for anyone to use. You can download Zoom on your computer, tablet, or mobile device. If you do not wish to download Zoom, that is okay too! It can run right out of your internet browser. You can find more details on Zoom here.
You can expect to get the Zoom room details once you RVSP. There are many ways to join the Zoom room, including using the program mentioned above, accessing it from your internet browser, as well as by calling with your phone.
Expect to have some fun! PeerNetBC staff will be there to guide you through the event, as well as share laughter, community, and good company.
If you have any more questions on what to expect, you can email info@peernetbc.com.
Accessibility & Access Needs:
We are committed to providing ASL and are working to secure these services. If you need ASL, please indicate in the form for our ASL interpreters.
We will also be using Zoom auto-generated closed captioning for this event.
Any zoom experience levels are welcome! We are happy to support you ahead of time to learn how to join a zoom call and will have a tech person assigned during the event that you can private message or call if you are having any issues.
We love seeing faces but don't expect you to have your camera on — you're welcome to come on and off your camera as needed. There will be a break during the event but we also encourage you to attend to your access needs (eg. eating, bathroom breaks, etc) during the event. You are also welcome to use the chat box at any time instead of audio.
Please let us know if you have any accessibility needs for the event that are not covered above. You can email info@peernetbc.com with any additional requests.
Membership
PeerNetBC is seeking to expand our membership relations. To address this, everyone that attends our AGM will become a member at PeerNetBC. When you become a member at PeerNetBC, you will be invited to participate (eg. vote) in our annual general meeting and have the opportunity to support us in other ways. This is incredibly valuable to us, and we definitely appreciate your membership. We also acknowledge that membership is a construct in which we must comply with in the non-profit sector.
In addition, your membership supports PeerNetBC to continue to:
Provide capacity-building workshops and consultations to peer-led initiatives across the province
Engage with community to inform our organization's work
Provide low-cost or free programming for multi-marginalized individuals and communities
Partner with and support grassroots groups, especially prioritizing those led by BIPOC and multi marginalized folks
Our membership operates on a sliding scale membership fee starting at $0 dollars (suggested $20 for those that can) with nobody turned away for lack of funds.
If this is a barrier for you for any reason and you would like to attend the AGM as a non-member, please reach out to us at info@
We have at least one opening on the board and would love to have someone that's excited about PeerNetBC's to work join us!
Being on the board entails:
Email communications & other governance task
Overseeing the organization's overall work
Participating in strategic planning
Attending bi-monthly board meetings
Acting as a board representative one of our working circles
It's a great opportunity to play an important role at PeerNetBC and learn about how non-profit governance works! If you, or someone you know, might be interested and wants more information, please contact: info@peernetbc.com.