PEKA EQUINOX RUN 2017 - COURSE DE L'ÉQUINOXE PEKA
Actions and Detail Panel
PEKA EQUINOX RUN 2017 - COURSE DE L'ÉQUINOXE PEKA
Sat, 6 May 2017, 8:00 AM – 12:30 PM MDT
Description

THE 7th ANNUAL EQUINOX FAMILY FUN RUN IS BACK BY POPULAR DEMAND!
In beautiful Three Sisters, take part in the first local race of the season and choose from our 1k, 5k or 10k events. Enjoy one of our multiple activity for children, adults and kids at heart throughout the morning. Participate to our silent auction and bet on four night stay to Costa Rica! Your kids will enjoy the face painting, bouncy castle and more.
The Equinox run 2017 is the main fundraising for the SPEF de Canmore in partnership with École Notre-Dame des Monts.
À LA DEMANDE GÉNÉRALE, LA 7e COURSE DE L'ÉQUINOXE EST DE RETOUR!
Dans le quartier « Three Sisters », prenez part à la 1ère course de la saison et choisissez entre le 1km, 5km ou 10km. Amusez-vous dans l'une de nos nombreuses activités prévues pour les enfants, les adultes, ainsi que ceux et celles qui ont gardé leur coeur d'enfant! Participez à notre encan silencieux et courez la chance de gagner l'hébergement dans un condo au Costa Rica.
La Course d'Équinoxe 2017 est l'activité de financement principale pour la SPEF de Canmore en partenariat avec l'École Notre-Dame des Monts.
EARLY RACE PACKAGE PICK UP
Friday May 5th, 2017 (6-8 p.m.) at Ecole Notre-Dame des Monts in Three Sisters (Gymnasium)
REGULAR RACE PACKAGE PICK UP
Saturday May 6th, 2017 (8 a.m. to 9:30 a.m.) at Ecole Notre-Dame des Monts in Three Sisters (Gymnasium)
SCHEDULE REMINDER - SATURDAY May 6th, 2017
9 am 1k run/walk
10 am 10k run/walk
10:05 am 5k run/walk
10:30 am Lunch/meal starts
LOCATION
All run activities are held at the École Notre-Dame des Monts school in Three Sisters.
Address: 3100B Stewart Creek Dr, Canmore, AB T1W 3M6
Check-in, childcare, bouncy castle, food and silent auction will all be inside the school.
The race starts from the soccer field outside. Event held rain or shine.
COURSE MAP / PARCOURS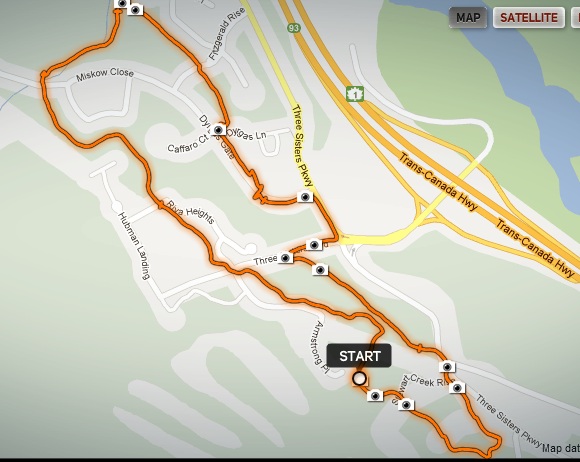 Date and Time
Location
École Notre-Dame des Monts
3100 B Stewart Creek Drive
Canmore, Alberta T1W 3M6
Canada