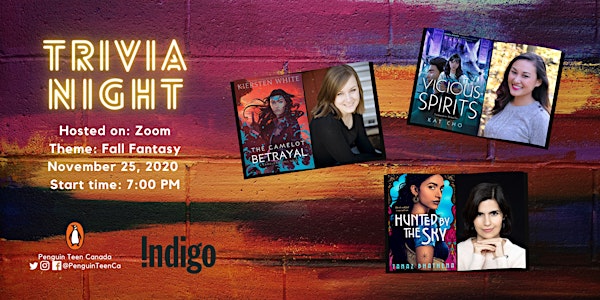 Penguin Teen Canada Zoom Trivia November: Fall Fantasy Edition
Penguin Teen Canada teams with Indigo Teen for a Fall Fantasy edition of Zoom Trivia!
About this event
Penguin Teen Canada returns with a special November edition of Zoom Trivia, and this time, we're partnering with our friends at Indigo Teen to spotlight some new YA fantasy!
Have some virtual fun and test your trivia knowledge with the Penguin Teen Canada and Indigo Teen crew at the end of the month. The theme in November is Fall Fantasy! Expect questions from these incredible writers of YA fantasy who will be Zooming in:
• Kat Cho (Vicious Spirits)
• Tanaz Bhathena (Hunted by the Sky)
• Kiersten White (The Camelot Betrayal)
Sign up as a solo player or as a team of up to four players and register before Tuesday, November 24, to make sure you receive your trivia sheet doc and Zoom meeting link!
Questions will cover both general YA book knowledge AND the themes and subjects loosely connected to the authors' new novels: Korea, women warriors, and betrayals! Our friends at Indigo Teen will also be asking general knowledge questions, so come prepared with your favourite YA fun facts.
Join us for a chance to win FANTASTIC prizes including Indigo gift cards, the authors' new books, AND bragging rights as trivia masters!
Have questions? Contact us at emunday@penguinrandomhouse.com.