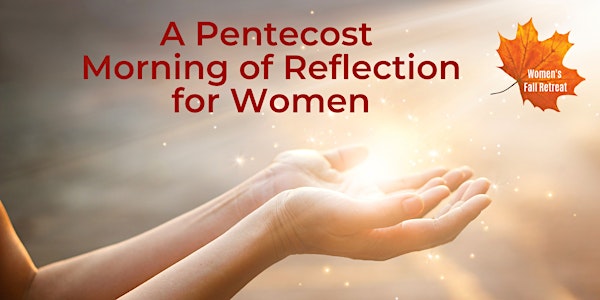 Pentecost Morning of Reflection
Join us for Pentecost Morning of Reflection via Zoom on Saturday, June 5th, 2021. Hosted by the Women's Fall Retreat Organization.
About this event
Rejoice! is a Pentecost Morning of Reflection being presented through Zoom, by the Women's Fall Retreat Team from 9- noon on Saturday, June 5th, 2021. All women of any age are invited to attend.
Sarah Damm, our keynote speaker from Minnesota, will be speaking on the theme, "Rejoice in the Lord always. Again I will say, Rejoice!" (Phil 4:4 ). Agenda includes inspiring music and small group break out sessions where you will have opportunity to connect by sharing or just listening to other women.
Cost $20 for registration.
| SARAH DAMM BIO |
Sarah Damm is a Catholic wife and mother of six children, living in Minnesota. She spends her days running errands, helping with homework, and keeping up with laundry and the family schedule.
Sarah is a committed Catholic speaker and writer who graduated from college in Minnesota in Communications and Theology. She began her professional life leading youth retreat programs and has worked in the education sector as a communications professional at both a Catholic University and a Catholic High School. Sarah continues to be engaged ministry, and particularly in women's ministries.
In addition to her vocational work, Sarah writes regularly for Blessed Is She, CatholicMom.com, and WINE: Women In the New Evangelization. She contributed to two women's devotionals: The Catholic Mom's Prayer Companion: A Book of Daily Reflections and the new release Called By Name: 365 Daily Devotions for Catholic Women.
Sarah is happy to be joining our group of Canadian women for our Pentecost Morning of Reflection.
Learn more about Sarah at sarahdamm.com.