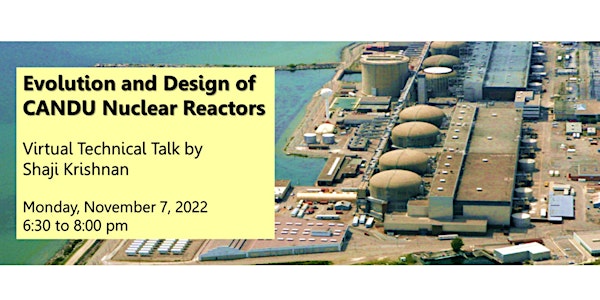 PEO Brampton - 2022 Evolution and Design of CANDU
History of Canada's nuclear legacy from the early years until now with an emphasis on the CANDU nuclear reactor design and development
About this event
This talk will provide a brief history of Canada's nuclear legacy from the early years until now with an emphasis on the CANDU nuclear reactor design and development.
Biography of Speaker:
Shaji Krishnan is a licensed professional engineer with 28+ years of Canadian nuclear work experience in the field of nuclear reactor core design. He graduated with a Master's degree from McGill University, Montreal in the early 1990's. Additionally, he is an ASME Section III Appendix XXIII qualified Specialized Professional Engineer, a Nuclear Energy Worker and a technical committee member of CSA N285 standards.