Performance-based Design in Geotechnical Engineering

Wednesday, 15 November 2017 from 5:15 PM to 9:00 PM (EST)
Event Details
Sponsorship Opportunity: An opportunity for a unique sponsorship for the event with prominent logo placement at the venue (up to four roll up tradeshow displays), PowerPoint display during break plus one (1) complimentary registrations and special mention during opening remarks is available.  The roll up displays to be provided by the sponsor and the text to be confirmed by CGS-SOS Committee.    
-------------------------------------------------------------------------------------------------------------------------------------------
Abstract:   Engineering design should consist of a sequence of decisions that lead to the creation of an artefact, a geo-structure in this case, that satisfies the client's performance requirements. This lecture will argue that any assessment of geotechnical performance must involve ground displacements. The traditional approach of specifying safety factors on soil strength (whether in the LSD Eurocodes or the LRFD codes in North America) fails to recognise that both structural unserviceability and structural failure are likely to precede soil failure, and that soil stiffness does not correlate well with soil strength. If engineers want to offer economic designs that successfully control displacements and avoid structural damage, they must measure soil deformability and account for it somehow in routine design calculations. But how is that to be achieved in practice? A new design approach will be proposed, the Mobilizable Strength Design (MSD) method.
Central to the MSD approach will be an assessment of the possible deformability and strength of the soil that lies within the deformation mechanism of the proposed geo-structure. The lecture will focus on clays. Regarding deformability, the shear strain required to mobilize half the peak undrained strength should be assessed, together with the slope of stress versus strain on log-log axes. This enables immediate displacements under working loads to be estimated almost as easily as the factor of safety. A simple method of extending this to short-term creep displacements will also be demonstrated. Estimates of long-term movement require additional information on volumetric behaviour, as is provided in current practice by oedometer data. In critical cases these new design methods should be checked by Finite Element Analysis (FEA), and design assumptions should ultimately be validated by monitoring settlements during and after construction. Examples will be given of the application of MSD to shallow foundations, piles and excavations in clay.
Speaker:  Emeritus Professor Malcolm Bolton.  Malcolm Bolton is now Emeritus Professor of Soil Mechanics at Cambridge University, where he was Director of the Schofield Centre for Geotechnical and Construction Modelling between 1995 and 2013. He is a Fellow of the Royal Academy of Engineering and holds various prizes of the UK Institutions of Civil and Structural Engineering, the British Geotechnical Association and the Canadian Geotechnical Society. He was founding chairman of the ISSMGE Technical Committee on Geo-Mechanics from Micro to Macro (GM3). He has collaborated on piles with the Giken company of Japan for 24 years, and is the founding chairman of the International Press-In Association. And he served for 4 years on the Slope Stability Technical Review Board for the Hong Kong Government. He helped to draft BS8002 Earth Retaining Structures, and hopes to see fundamental improvements made to Eurocode 7 which has subsumed it. He has 250 publications on topics ranging from fundamental soil mechanics to a wide variety of geotechnical engineering applications.
When & Where

St. Bernard Church
1789 Lawrence Avenue West
Toronto, ON M6L 1E3
Canada

Wednesday, 15 November 2017 from 5:15 PM to 9:00 PM (EST)
Add to my calendar
Organizer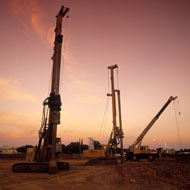 About Us
The Canadian Geotechnical Society Southern Ontario Section (CGS-SOS) represents the national organization at the local level centered at the Greater Toronto Area (GTA) and covering some cities in Southern Ontario. The CGS-SOS was established in the early 1970s and forms the largest region of the Society. Its purpose is to provide opportunities for continuing education (through lectures and seminars), and for constructive dialogue and sharing of experiences. This is accomplished through organizing events on about a monthly basis.
The Canadian Geotechnical Society (CGS) is an independent, federally incorporated, non-profit learned society which exists to serve and promote the geotechnical and geo-science community in Canada. It encompasses a wide spectrum of scientific and engineering disciplines within the geotechnical field. Membership is open to individuals from all sectors including private consulting, universities, industry, contracting and public services.