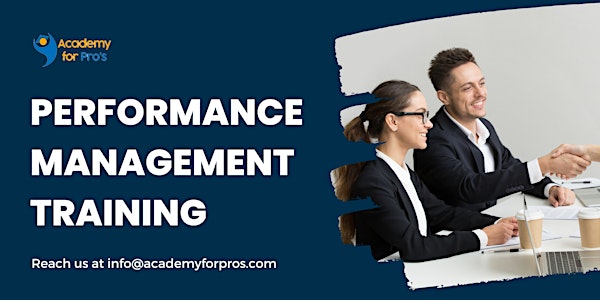 Multiple dates
Performance Management 1 Day Training in Regina
Our classroom training provides you the opportunity to interact with instructors and benefit from face-to-face instruction.
Date and time
February 16 · 9am - December 15 · 5pm EST
Location
For venue details reach us at: info@academyforpros.com PH: +1 469 666 9332 Regina, SK S4P 0J3 Canada
Refund Policy
Refunds up to 7 days before event
About this event
Certificate: Course Completion Certificate Language: English
Duration: 1 Day Credits: 8
Course Delivery: Classroom / Virtual
Course Overview:
Anyone involved in the performance management or appraisal process can take this course. This could include Directors, Managers, Team Leaders, and HR Professionals. This training will help to develop your performance management skills of you.
Course Contents:
Expert training to improve Performance Management is often treated like a box-ticking exercise, effective performance management is actually fundamental to achieving a successful future. Performance management is not a fixed sequence of events, but a continuous process that constantly adapts to the needs of the team.
The benefits of this course are profound:
Improved organizational performance– staff becomes aligned with company goals.
Improved productivity– performance is benchmarked to set challenging targets.
Improves communication– promoting open dialogue and building better relationships.
Clear accountabilities– a chance to recognize good performance while improving poor.
Saves management time and reduces conflict– making clear cost savings.
Ensures efficiency and consistency in performance– building team spirit.
Clarifies expectations of employees– provides a chance to establish future objectives.
Defines career paths and promotes job satisfaction– people feel cared about.
Better employee retention and loyalty– feedback is crucial for personal development.
An organization that embraces effective performance management is creating a strategic advantage in the marketplace. This performance management training provides all the information and techniques you need to Manage the Performance
Course Topics:
The key aim of the performance management process is to develop the team to assist the organization in achieving its objectives. The main content of this training are:
What is Performance Management? – Developing an understanding of what Performance Management is and how we embed it into the culture of the organisation.
The Performance Management Cycle – Showing that Performance Management is a cyclical process and demonstrating the requirements at each stage. Including the need for ongoing reviews.
The Key Skills of Performance Management, including:
Objective Setting – Ensuring that objectives are clearly defined, describe performance requirements and are SMART.
Ability or Motivation? – A simple tool to help assess the best approach to take to developing an individual.
Adapting Your Leadership Style – Applying the ability/motivation tool to a specific work based example.
Feedback – Identify what positive feedback is, and is not.
Giving Difficult Feedback – Providing some key tips on this topic.
Judgemental or Behavioural Feedback? – Ensuring that our feedback is on specific, observable actions rather than 'feelings'.
Performance Reviews – Taking delegates through a six-stage process.
Performance Reviews Practice – An opportunity to put the skills to the test.
Using the GROW Model to Joint Problem Solve – Looking at the GROW framework from a Performance Management perspective and providing specific questions to aid the process. With practice.
Managing Poor Performance – Identifying which actions to take and when, with some key skills.
Dealing with Poor Performance – A defined process to use.
Ten Ways to Improve Your Team Performance – Tips for analysis and Review. How can we implement these in the workplace?
Course Feature:
At the end of this performance management training course you will be able to:
Explain your role in managing the performance of your team
Describe the key stages in the performance management process
Use the performance management skills and techniques practice to create a development plan
Develop techniques to address poor performance
Review the challenges that face them within your specific team
Follow an action plan of their key development points.
Note:
However, catering to the demands of busy professionals, our virtual training programs are as effective as face-to-face learning. Reach us at info@academyforpros.com for dates and details of Instructor Led Live Virtual Sessions.
If you would like to get this course customized and delivered exclusively for your group, we have an On-Site Training Option you can reach us at info@academyforpros.com for more details about on-site or corporate training.
Offers:
Groups of 3 people 10% Discount
Groups of 5 people 15% Discount
Groups of 10 people 20% Discount
About the organizer
We deliver training solutions to Corporate, Government Agencies, Public sectors, Multinational organizations and Private Individuals. Our Primary focus is to train in a wide range of areas from IT Technical, Personal Development, Human Resources and Management Courses to Project, Program and IT Service Management.
We have most experienced trainers in the Industry. Our Trainers are highly skilled in their subject areas and are uniquely positioned to provide participants with deep industry experience. They are motivated to transfer knowledge through practical support post and pre-training to provide participants with additional support outside the classroom.