Description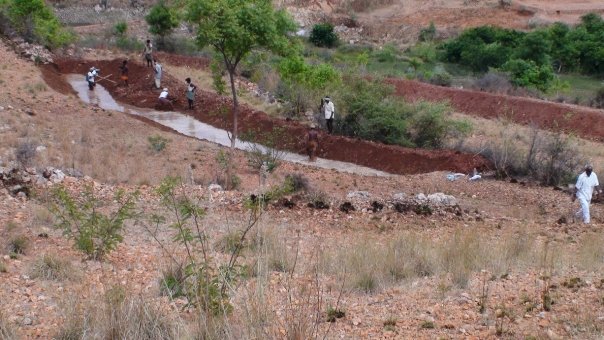 Come to Tweed, Ontario for our two-day workshop on water-harvesting earthworks used on permaculture.
Learn the water-harvesting techniques of permaculture with both theoretical and hands-on work
Get design experience
Participate in site assessment, and design layout and implementation
Watch and learn about swale-making with dozers, and ripping for greater water infiltration with subsoilers
During this workshop, we will be employing a dozer to cut swales into the site to assist in catchment and infiltration of precipitation. A subsoil ripper will also be used to assist in infiltration. Due to site-specific conditions, students may get to see instructive problems arrising with the use of the subsoiler.
July 13
Day one will cover design theory. Students will also learn how to measure the site and map it for design purposes in a hands-on environment. Time will be devoted to design work with student design teams creating their own plans for the workshop's site.
July 14
Day two will focus on site layout and implementation. Swales will be cut into the site with a dozer. A subsoiler will also be used for patterned ripping of the soil. As part of the hands-on component, the swales will be groomed and level-sill spillways cut into the swales. The use of various levels will also be demonstrated, with students having an opportunity to use them in practice.
Please click here for a video discussing some of the approaches we will cover.
Students should bring a notebook, pens, and pencils. Bring gloves, workboots, a hat, sunscreen, and raingear. If possible, bring a shovel for the practical portion of the course.
Meals and accomodations will not be provided during the course. Contact Douglas for a list of area accommodations.
For alternative payment methods, please contact Douglas Barnes. Contact information below.
Please note that to provide the best learning environment, we are limiting ticket sales to 20 tickets.
About the instructor:
Douglas Barnes is a permaculture designer, consultant, and teacher. He has designed and implemented systems in India, Japan, and Canada, as well as consulting on projects in Australia. He has taught permaculture in Japan and Canada. Douglas holds two Permaculture Design Course certificates, including one from permaculture Founder Bill Mollison.
Contacts:
Douglas Barnes
dbarnes@ecoedge.ca
613-478-2949