Description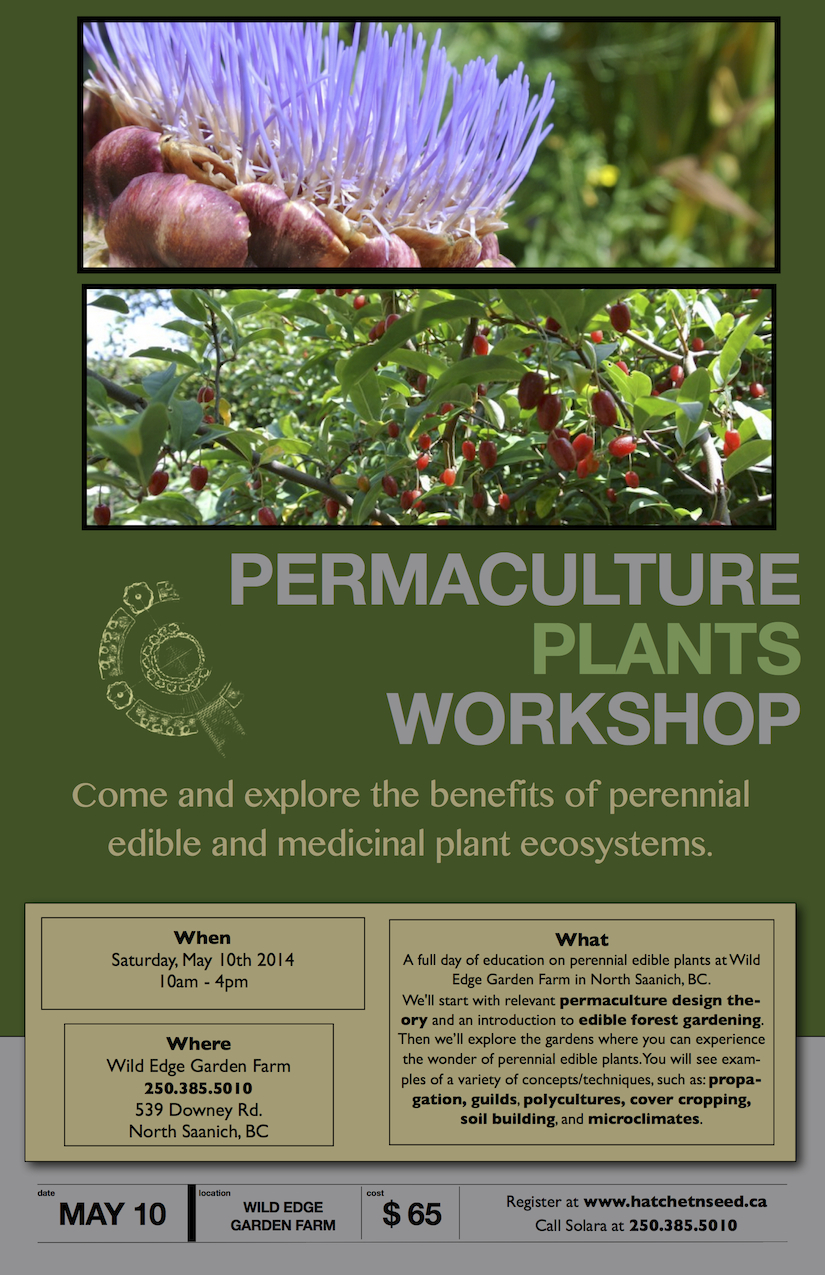 You might be asking "What is a permaculture plant?"
We believe the answer is more about how that plant is used within a food production system. The most useful plants are those that provide multiple functions to an ecosystem while at the same time are either edible, medicinal, or provide fuel/fiber. These are the most useful plants to the Permaculture Designer.
Join us for a day of exploring perennial edible plants in the beautiful setting of Wild Edge Garden Farm in North Saanich, BC.
We'll show you around the property, where you can experience the wonder of perennial edible plants.You will see examples of a variety of concepts, such as: guilds, polycultures, cover cropping, soil building, and microclimates.
You will also see, touch, smell, and taste a whole host of perennial edible plants (permaculture plants) from young seedlings in the nursery to mature fruit trees and shrubs.
Some species we'll examine in the outdoor classroom include: persimmon, fig, mulberry, goji, goumi, apple, pear, plum, elderberry, saskatoons, autumn olive, honeyberry, blueberries, sea buckthorn, plus a whole host of perennial vegetables and support species.
Here's what the day will look like:
10 am - 12 pm
- introductions & orientation
- patterns of the edible forest garden
12pm - 12:45pm - LUNCH
(Bring your own lunch, we'll be serving tea)

12:45pm - 1:45 pm
- observation exercise & sharing
1:45pm - 3:45 pm
- plant-focused forest garden tour
- see, touch, smell, and taste many of the amazing perennial edible plants (both native and non-native) we are able to grow here, in Canada's most mild climate
- we'll discuss specific plants in detail, their preferred microclimates, soil conditions and placement
- tour our garden and perennial edible nursery where we'll touch on propagation techniques
*We'll have plants for sale at the end of the workshop.
Organizer of Permaculture Plants