Description
Persian New Year "Nowruz" Feast by Sankara
Nowruz is a New Year celebration with food, music and tradition celebrated by Persians worldwide on the First Full Day of Spring, March 21st. Over 190 million people celebrate this occasion worldwide; in fact, eleven countries mark this day on their official calendars. It is the Persians who truly mark the New Year momentously and have celebrated Nowruz for over 3,000 years!
At Sankara we are happy to bring a Nowruz festivity to Saint John for locals to experience. Sankara partner Chef Reza and his wife are pleased to offer us access into their New Year celebration on Nowruz, meaning litterally "New Day" in Farsi.
These festivities will be marked by a 3 course meal, a video and discussion by Chef Reza, traditional Persian music and the traditional Haftseen table at each table. This table setting is a display of 7 items beginning with the letter "s" which are good luck symbols according to Persians. Chef Reza will discuss each item for us.
This is a special event and tickets are limited to 30 guests. Join us for one night only at the Five & Dime!
We will also feature live painting from Austin Holland, winner of Art Battle 609 Saint John. He will create a unique painted with the influences of Persian culture, tradition music and the event's atmosphere. The finished piece will be silent auctioned at the event!
---
Since the Persians mark their New Year at the beginning of Spring traditional Nowruz dishes are made with herbs representing new life and revival. Our menu reflects this traditional method of cuisine. Our servers will take great care of you, meals are always served on dinnerware.
Appetizer: Soup-e Jo - Iranian Chicken Barley Soup - this is a traditional way to open a feast
Main Course: Fesenjen - Iranian Pomegranate, Walnut & Chicken Stew with Saffron Basmati Rice
Or
Sabzi Polow Mahi - Fresh Garlic & Herbed Basmati Rice with Baked Lemon Salmon
Dessert: Saffron Raisin Cookies with Persian Herbal Tea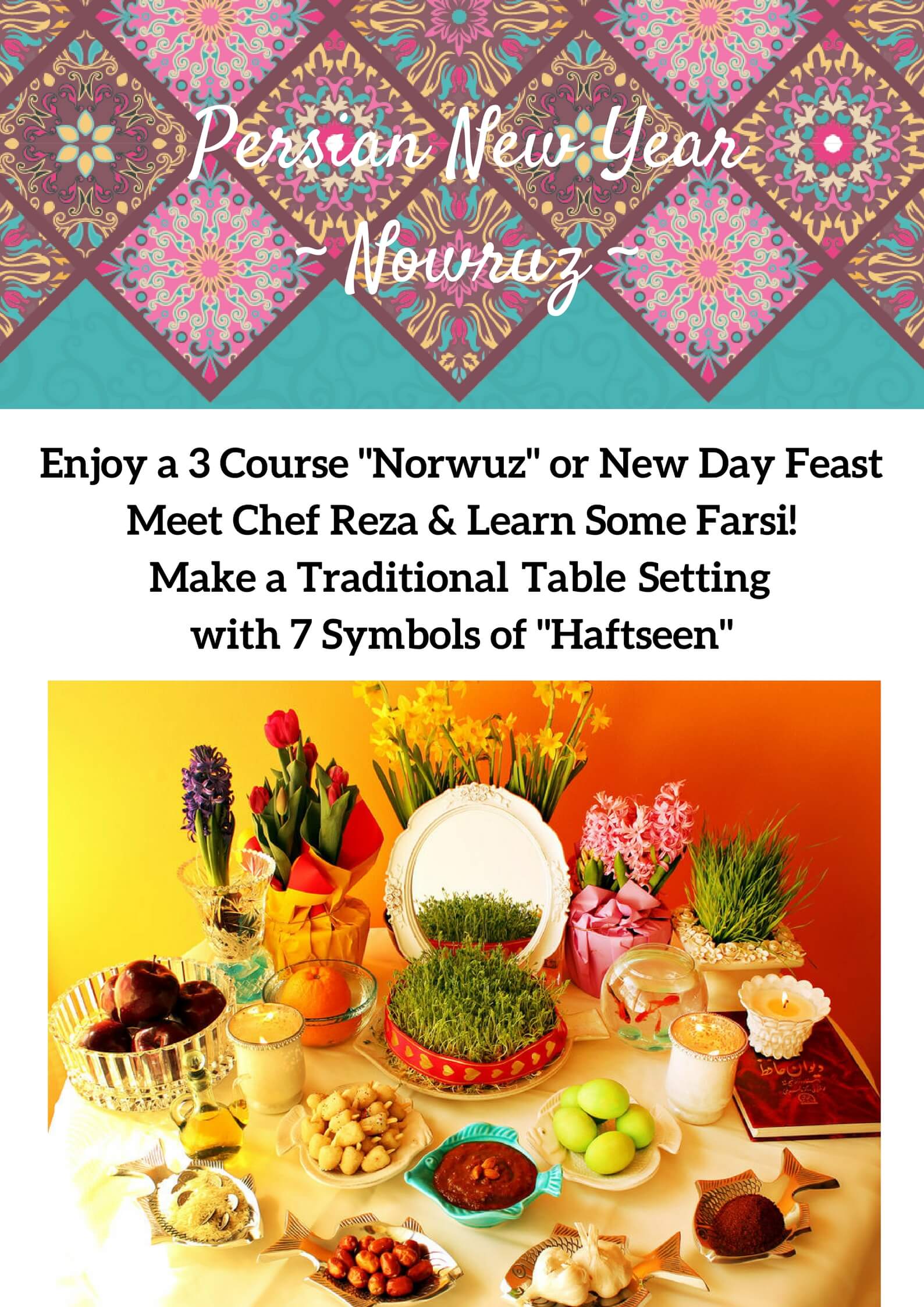 A Traditional Haftseen Table