About this Event
Welcome to a full day of training, networking, and inspiration: Personal Brand Mastery Conference.
Personal Brand Mastery Conference has two major objectives:
NETWORKING and LEARNING: Learn state-of-the-art strategies to catapult your visibility, credibility, and profitability! Network with and get direct advice from some of the most successful business people and influencers who have built highly-profitable corporate and personal brands.
RECOGNITION of CHAMPIONS: Let's acknowledge the Champions! A handful of successful business owners will be recognized and given awards for their achievements and contribution.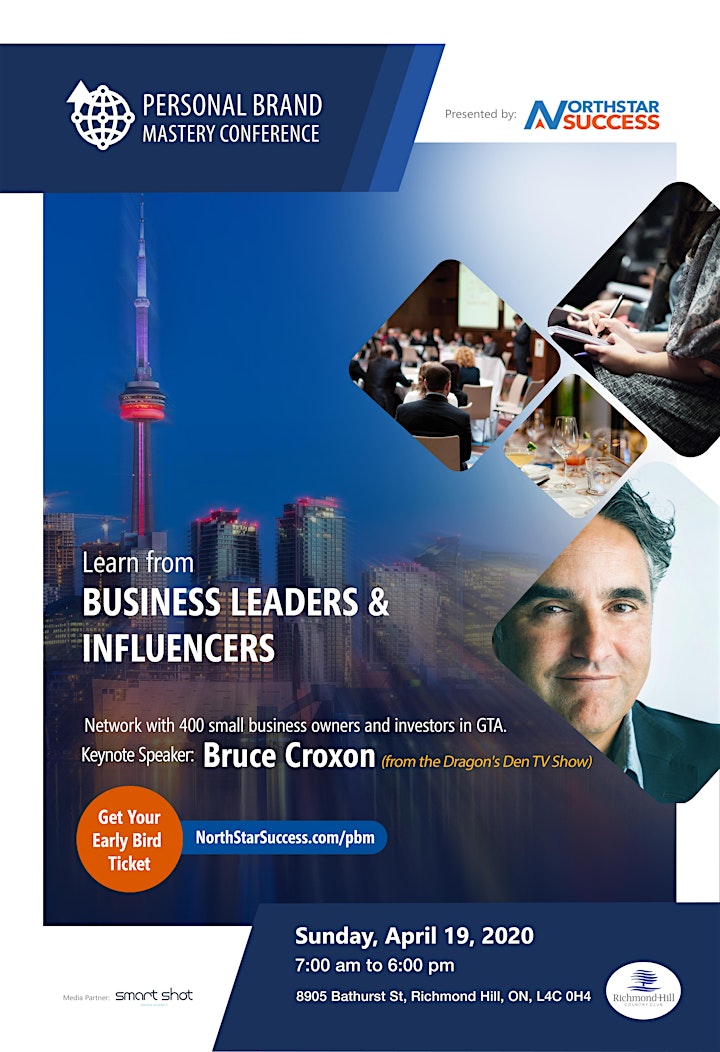 ✅ Keynote Speaker: Bruce Croxon (Dragon's Den Star)
✅ Organized by Dr. Shahab Anari from North Star Success, Personal Branding agency
✅ Amazing panelists: Rola Dagher (President of Cisco Canada), Brandi Leifso (Evio Beauty's founder, Chatelaine Magazine's 2018 Women of the Year), Bobby Umar (Personal Branding Expert, Top 100 Inc. Leadership Expert), and many more
✅ + business development workshops
✅ + networking with hundreds of like-minded professionals
✅ + lunch included
✅ + a portion of the revenue will go to planting trees for the planet!
For more details, visit https://www.northstarsuccess.com/pbm.
If you'd like to become a sponsor/exhibitor, contact us at katty@northstarsuccess.com or 647 479 0790.
Follow North Star Success on social media for updates about the event and full details:
Photography and Videography: The event will be photographed and videographed by the organizer and the footage may be used in their marketing material later on. All participants consent to this when they decide to attend the event.
Email Communication: By purchasing the ticket here, the participant allows the organizer to communicate with them through email regarding news about this event and other events.
Refund Policy: We have a no-refund policy, but in the rare event that there is a Force Majeure (for example, if we cancel or reschedule due to Coronavirus or other reasons), we will definitely give you the option to ask for a refund.