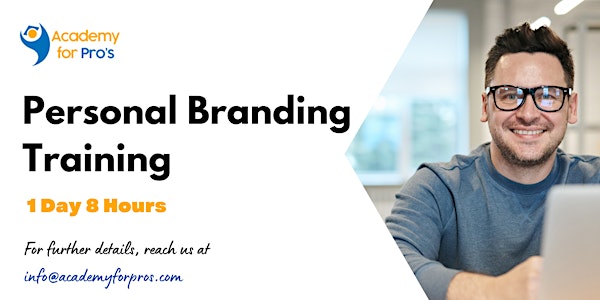 Personal Branding 1 Day Training in Windsor
Our classroom training provides you the opportunity to interact with instructors and benefit from face-to-face instruction.
Date and time
Thursday, June 22 · 9am - 5pm EDT
Location
For venue details reach us at: info@academyforpros.com +1 469 666 9332 Windsor, ON N8N 2R8 Canada
Refund Policy
Refunds up to 7 days before event
About this event
Certificate: Course Completion Certificate Language: English
Duration: 1 Day Credits: 8
Course Delivery: Classroom/ Virtual Live/ On-Site
Course Overview:
Personal Branding is identifying your assets, characteristics, strengths, and skills as an individual. Understanding Personal Branding will provide advantages in your participant's personal and professional lives. Branding is a mix of how you present yourself and how others see you. It is important to be aware of how you are viewed.
With our Personal Branding course your participants will be able to share their vision and passions with others in your company. Utilize this knowledge through Social Media to define and influence how others see you. You are your brand so protect it. Live it.
Target Audience:
Anybody who is interested in Personal Branding Skills.
Learning Objectives:
By the end of this course you will be able to:
Understand your personal and professional influences
Know how to sharpen your personal brand
Understand why appearance matters and how to rise from the crowd
Know how to use Social Media to build your personal brand
Managing your brand through a crisis
Understand your brand's unique personality
Plan the steps for success.
Prerequisites:
None
Course Materials:
Attendees will receive a course manual with presentation slides and reference materials.
Technical Requirements:
For eBooks:
Internet for downloading the eBook
Laptop, tablet, Smartphone, eReader (No Kindle)
Adobe DRM supported software (e.g. Digital Editions, Bluefire Reader)
eBook download and activation instructions
Agenda:
Module One: Defining Yourself (I)
If You Don't, They Will
Brand Mantra
Be Real
SWOT Analysis
Case Study
Module One: Review Questions
Module Two: Defining Yourself (II)
Pillars
Passions
Define Your Strengths
The Three C's
Case Study
Module Two: Review Questions
Module Three: Controlling and Developing Your Image
Clear and Defined
Consistent Image
It Takes a Commitment
Live It Every Day
Case Study
Module Three: Review Questions
Module Four: Personal and Professional Influences
Corporate and Personal Integration
They Will Influence Each Other
Be a Professional
Build Rapport
Module Four: Review Questions
Module Five: Sharpening Your Brand
Blogging
Authenticity is Key (always be authentic)
Transparency
Networking
Case Study
Module Five: Review Questions
Module Six: Appearance Matters
First Impressions
Rise Out of The Crowd
True Reflection
Dress For Success
Case Study
Module Six: Review Questions
Module Seven: Social Media (I)
Needs Constant Monitoring
Security
Have an Objective
Promote
Case Study
Module Seven: Review Questions
Module Eight: Social Media (II)
It's a Tool
Content is King
Have a Gimmick
Don't Ignore Any Mentions
Case Study
Module Eight: Review Questions
Module Nine: Brand Management During a Crisis
Caught In a Bad Spot?
Never Burn a Bridge
Information
Monitor and Respond
Case Study
Module Nine: Review Questions
Module Ten: Branding Personality Traits
Identify Your Unique Values
Be Bold
Think Outside the Box
Fail. Learn. Repeat
Case Study
Module Ten: Review Questions
Module Eleven: Wrapping Up
Words from the Wise
Review of Parking Lot
Lessons Learned
Completion of Action Plans and Evaluations
Note:
However, catering to the demands of busy professionals, our virtual training programs are as effective as face-to-face learning. Reach us at info@academyforpros.com for dates and details of Instructor Led Live Virtual Sessions.
If you would like to get this course customized and delivered exclusively for your group, we have an On-Site Training Option you can reach us at info@academyforpros.com for more details about on-site or corporate training.
Offers:
Groups of 3 people 10% Discount
Groups of 5 people 15% Discount
Groups of 10 people 20% Discount
About the organizer
We deliver training solutions to Corporate, Government Agencies, Public sectors, Multinational organizations and Private Individuals. Our Primary focus is to train in a wide range of areas from IT Technical, Personal Development, Human Resources and Management Courses to Project, Program and IT Service Management.
We have most experienced trainers in the Industry. Our Trainers are highly skilled in their subject areas and are uniquely positioned to provide participants with deep industry experience. They are motivated to transfer knowledge through practical support post and pre-training to provide participants with additional support outside the classroom.