Yearly Intuitive Reading by Month
About this event
Join Velva Dawn Silver, founder of The Goddess Healing Matrix System™ for a recorded reading for 2022 personalized just for you.
She will do a 13 card spread from her deck Awakening of the Divine Oracle for December 1, 2021 to December 1, 2022. Each month there will be a theme to work on inner deep healing.
The energy of the divine feminine helps you to focus on the deep inner work for yourself. You will begin to see a shift in your outer world as you dive in deep to connect with the areas within yourself that need nurturing.
She will doing the recorded readings throughout the first week in December 2020 so that you can plan the upcoming months. You will be sent the recording to view at your leisure.
If you are wanting to know what you need to release to allow a more peaceful expanded year of 2022 contact me for a 13 month reading to help assist you. Each month will have a goddess with a messsage about how to use that intention in your life. This is not just a 13 month reading but a healing reading to help you create the inner balance for your upcoming year.
Cost: $152.00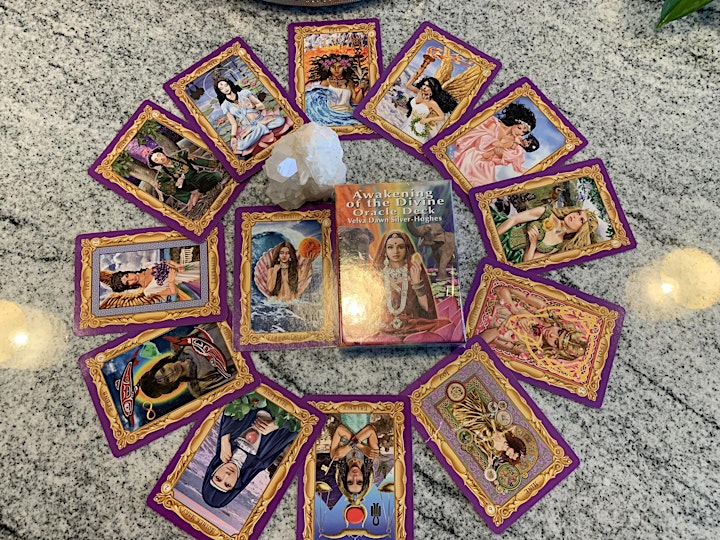 Date and time
Location
Refund policy
Organizer of Personal Feminine Forecast 2022
Velva Dawn is the founder of The Goddess Healing Matrix SystemTM, Goddess Girl PowerTM—Divine Feminine empowerment for girls aged 8 to 18—and the author of Ancient Secrets of the Goddesses and Awakening of the Divine Oracle Cards. She also hosts her weekly radio show, The Keys of Awakening on 12 Radio.
What if...you could HEAL your hurts and learn how to trust yourself again?
What if fear didn't get a say in your life anymore—and instead, self-love ruled supreme?
And what if—in order to facilitate this kind of deep-rooted expansion—you combined the sacred wisdom of not 2, not 3, but 33 divine goddesses from Ancient Egypt, Greek mythology, Catholicism, Native American legend, Hindu philosophy, Buddhist tradition, and more?
You'd be able to shift and expand into a higher state of consciousness; one BRIMMING with potential.
And in the process, you'd be taking full responsibility for your experience of life.
Years after experiencing traumatic abuse as a young woman, Velva Dawn began to see an intuitive who could find NO evidence of negative energy 'round her memories of abuse.
Velva Dawn's (unexpected) response: "Yeah, I know—I cleared that."
Having begun working with the Divine Feminine, Velva Dawn had been busy channeling Isis—the Ancient Egyptian goddess Velva likes to call the "kick-your-butt goddess"—who had been helping her to heal on a deep level.
Compelled to share Isis' sacred wisdom with others (as well as messages from other legendary goddesses from around the planet), Velva Dawn began to compile her first book: Ancient Secrets of the Goddesses (now available from Balboa Press, Amazon.ca, Amazon.com, and Barnes and Noble).
The book ultimately became the foundation for The Goddess Healing Matrix SystemTM, a life-altering system created to help courageous men and women activate their inner goddess, awaken their divine wisdom, and access the spiritual tools necessary for lasting inner peace.
Velva Dawn relishes supporting her students to recognize and release the root cause of their self-sabotaging patterns. She's a passionate self-love advocate, and (always) serves with a wide-open heart.
Velva Dawn is a proud mother to her three beautiful girls Kayla, Josie and Erin and her puppy Laila.