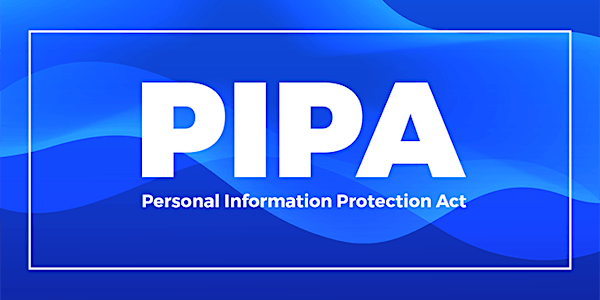 Personal Information Protection Act (Multi-Co-op)
The Personal Information Protection Act (PIPA) applies to all co-operative housing organizations for the protection of personal information
By Northern Alberta Co-operative Housing Association
Date and time
Sat, Feb 20, 2021 9:00 AM - 11:00 AM PST
About this event
The Personal Information Protection Act (PIPA) applies to all co-operative housing organizations for the protection of personal information and to provide a right of access to an individual's own personal information.
Are you aware of your co-operative's legal requirements for PIPA? What do your own co-op's by-laws state for privacy education and the Personal Information Protection Act?
This 2 hour plain language workshop will cover the following:
Obtaining consent for collection, use and disclosure of personal information
What personal information should be collected and for what purposes
What information should be provided to an individual when requested by them
Keeping personal information secure and how long should it be retained for
What do to if there is an incident that involves the loss of or unauthorized access to or disclosure of personal information
Designating an individual to make sure you comply with the Act and that will be your co-ops Privacy Officer
Overview of reported PIPA Breaches
And more!
Online Event
This workshop will be held virtually via Zoom.
You can join the online workshop via a computer, tablet or mobile device.
Please join the workshop at least 15 minutes before the start so that any technical issues can be resolved.
You can download the Zoom app from the Zoom Download Centre. We recommend that you download the application before the meeting.
If you have any questions about attending the on-line workshop, please email info@nacha.ca.
The Zoom application is very easy to use. However, we have provided you with a few videos below for those of you that are new to the software.
Details
Facilitators: Darlene Germin
Location: Online Event via Zoom
Date: Saturday, February 20, 2021
Cost: $65/person to a max. of $350 per co-op.
Payment: NACHA will invoice your co-op following the event. 
Registration Deadline: 11:59 PM, February 18
Confirmation: You will receive a confirmation of registration via email shortly after registering with a link to the event. 
COVID-19: Please ensure that you adhere to the restrictions put in place by Alberta Health Services.
Cancellation Policy: We understand that schedules can change and despite a registrant's best intentions, they may not be able to attend an event they registered for. If you are unable to attend, an alternate from your housing co-operative is welcome to attend in your place. Please notify NACHA as soon as possible at info@nacha.ca
If a substitute cannot be found:
You will not be charged a Cancellation Fee if you notify NACHA via email @ info@nacha.ca BEFORE the registration deadline. 
If you cancel AFTER the registration deadline, your co-op will be invoiced a cancellation fee (25% of the cost of the registration fee).  
Subject to 1. and 2. above, if the registrant is a 'NO-SHOW, the Co-op will be invoiced the full cost of the registration fee.
NACHA reserves the right to cancel or postpone workshops due to under-enrollment, instructor illness or other factors out of our control. In the event of a cancellation, we will notify you via the email address you provided during the registration. 
About the organizer
NACHA provides on going support and educational services to its member housing co-operatives in and around the Edmonton area.