18+ Zoom event for underserved people who live in Canada to join in order share their perspectives and experiences with the RCMP / Police.
About this event
AMPLIFY!
Racism, Discrimination, Police Brutality. They still exist. We want to hear you.
What is AMPLIFY! about?
AMPLIFY! is a youth-led initiative that shares the stories of underserved communities in Canada. To end police brutality, discrimination, and racism toward our Black, Indigenous, and Peoples of Colour community, we plan to host a conversation with the Royal Canadian Mounted Police Commissioner to demand change.
PEOPLE BEHIND AMPLIFY!:
Former RCMP National Youth Advisory Committee alumni ready to relay the message of underserved communities across Canada. We recognize our privilege of being able to connect with the RCMP, thus plan to leverage our network to amplify voices that need to be heard by decision-makers.
AMPLIFY! Goal:
Our end goal is to amplify #TheirVoicesNotOurs, encourage other youth and underserved individuals to share their stories, and implement direct action to end racism, discrimination, and police brutality, one step at a time.
We invite you to: PERSPECTIVE SHARING SESSION:
On Saturday June 19, 2021, we invite BIPOC individuals who are 18 years old or older and who have been affected by the police and RCMP to share their stories and initiative feedback over a safe and anonymous space via Zoom.
The purpose of this call is to accurately relay your message while keeping your identity confidential. We will have mental health support available during the session as we converse about difficult topics.

Additional Details: 
-In order to honour confidentiality, feel free to sign up using an alias if that is what feels more safe for you.
-If there are multiple sign ups there will be more than one call arranged on June 19. Each call will be limited to 20 participants. 
-Upon registering for this event there will be a Google form to fill out with some information along with your order/ticket number. We will be reviewing this document to assure that the space that we will hold for conversations and experience sharing on June 19 will be safe. Therefore, we will be reviewing the intake / registration forms. 
https://forms.gle/yGZZxPsYuMBcz5sQ6
Stay Updated and Invite People Here: bit.ly/AMPLIFYEventPage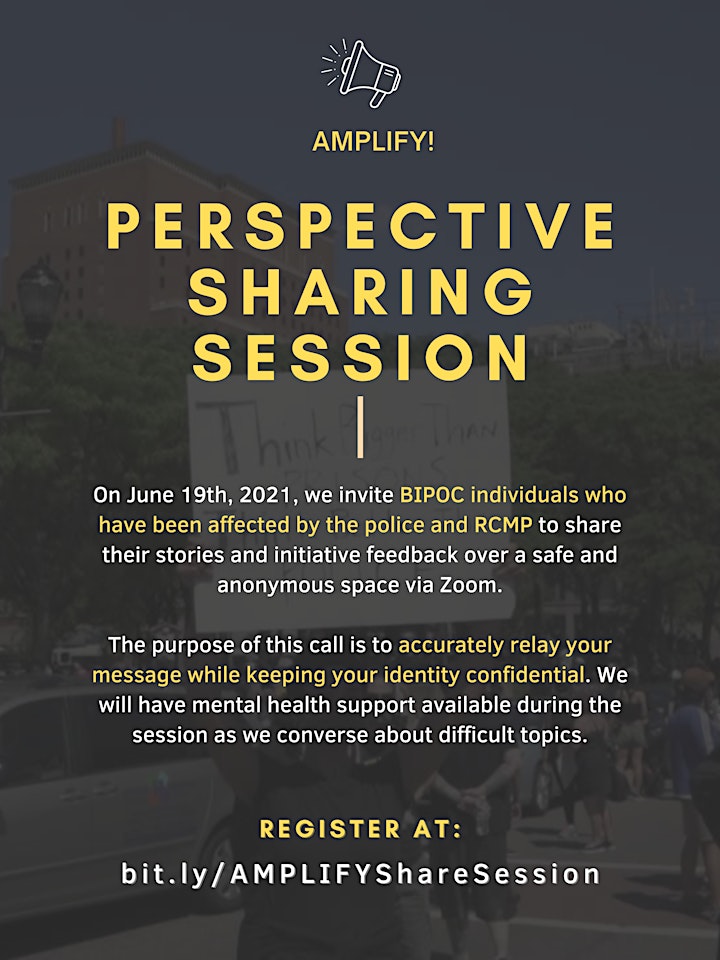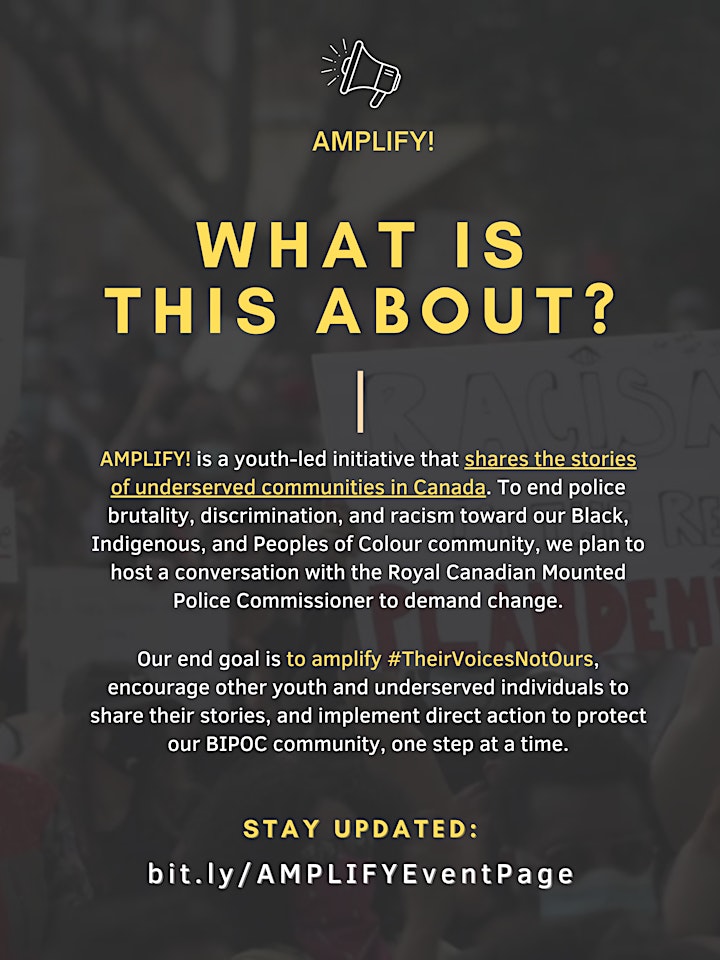 Organizer of Perspective Sharing Session - AMPLIFY #TheirVoicesNotOurs