PERSPECTIVES - a film discussion series with Aisha Jamal
About this event
DOC Institute is proud to join POV in presenting upcoming filmmaker roundtables hosted by filmmaker and programmer, Aisha Jamal.
Join us for an intensive three-part series that digs deep into the craft of documentary filmmaking. What are the essential storytelling decisions and the paths that filmmakers explore as they land on the key elements that define their films? Join Aisha and a list of talented filmmakers as they share insight into their creative process, bridging conversations around writing, genre, format, and more.
PAY WHAT YOU CAN - $10/session suggested donation per session
ZOOM LINK: you will receive a link in your Eventbrite confirmation email after you register. Please register for each session you would like to attend.
Thank you to Vistek, our presenting sponsor.
We are proud to partner with POV; POV is Canada's go-to magazine on documentary culture.
Thursday, Sept 24th, 7-8 pm EST
Translating Theme
Yung Chang (This is Not a Movie, Up the Yangtze)
Ngardy Conteh George (Mr. Jane and Finch, The Flying Stars)
Baljit Sangra (Because We Are Girls, Have you forgotten me)
Thursday, Oct 1st, 7-8 pm EST
Finding Your Format
Lisa Jackson (Biidaaben: First Light, Lichen, Ojiibikaan; dev)
Aïcha Diop (Nancy's Workshop, Gawlo; dev)
Joannie Lafrenière (Bibelot & Bingo, Gabor)
Thursday, Oct 8th, 7-8 pm EST
On the Topic of Genre
Maya Annik Bedward (The Haircut, Black Zombie; dev)
Shane Belcourt (Amplify, Indictment: The Crimes of Shelly Chartier)
Maya Gallus (The Heat: A Kitchen Revolution, Derby Crazy Love)
For more information about these three filmmakers, check out POV's website - thanks to Pat Mullen for preparing these highlights from the filmmakers' careers!
http://povmagazine.com/blog/view/perspectives-week-3-genre
POV Magazine subscriptions are a member benefit of DOC. To learn more, please visit our website at https://docinstitute.com.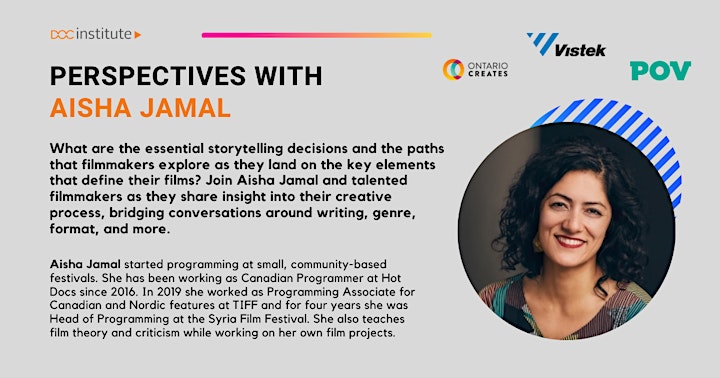 Organizer of PERSPECTIVES with Aisha Jamal
The DOC Institute develops and leads programs to help documentary-makers succeed at every stage of their careers. Offering creative inspiration and insider advice, we're a hub for the non-fiction community. At the DOC Institute, professionals of every job description, career level, and non-fiction style learn real world business skills, hone their craft and make industry connections. DOC Institute is an inititative of the Documentary Organization of Canada, Ontario Chapter.