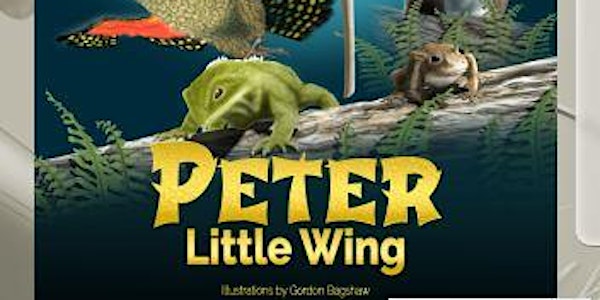 Peter Little Wing Book Launch
Come and meet author Regan W. H. Macaulay at the official book launch for her brand new middle-grade novel Peter Little Wing!
When and where
Location
HOTHOUSE 35 Church Street Toronto, ON M5E 1T3 Canada
About this event
We hope you'll join us for this wonderful event to celebrate the launch of the brand new middle- grade novel Peter Little Wing by Regan W. H. Macaulay, illustrated by Gordon Bagshaw. Get your book signed by the author and enjoy some delicious treats! Regan will be reading an excerpt from her book at 2:15 pm and 3:15 pm, you won't want to miss it!
About the book: Peter, a captive Southern Fiordland tokoeka kiwi, and his friends from the National Aquarium—Onion, a little blue penguin with an inner ear imbalance; Tim, a tuatara with Generalized Anxiety Disorder; and Rangi, a kea with clipped wings—embark on a quest through the unfamiliar wilderness of New Zealand in search of three ingredients needed to create an elixir to cure Peter's ailing grandfather. Together, they traverse the length of the South Island of Aotearoa, all the way across the Cook Strait and back home to the North Island. They learn what they are all capable of in the wild of the wop wops, and what the world beyond the "Wall of Shadows" of Peter's habitat is all about.
*Please note that when you register for this FREE book launch party, you will be signed up to Regan W. H. Macaulay's special Peter Party VIP email list in order to receive updates on the event and the book. You can unsubscribe at any time.