Get up close and personal with photographer and filmmaker Peter McKinnon with this rare live interactive session.
About this event
When: Saturday May 1, 2021 | 2PM - 3:30PM EST
Where: ONLINE - Webinar
Cost: FREE - RSVP to secure your spot.
Get up close and personal with photographer and filmmaker Peter McKinnon (@petermckinnon) with a rare opportunity to learn from Peter in a live interactive online Socality x Canon Creator Lab session on Saturday, May 1st. Peter will be sharing stories and lessons learned, answering your questions, and offering a unique behind the scenes look at what goes into his work and creative process.
Session Structure:
This session will differ from some of the other live online workshops we've hosted because we want it to be as interactive as possible and give all of you tuning in a chance to participate and learn from Peter in a unique and highly engaged manner.
First half - We will be tackling a mixture of guided questions digging deep into themes ranging from creative process and storytelling to the business side of things and creative living alongside a curated selection of questions submitted by those registered. (We're including a field in your registration where you can submit a question or topic that you'd love to see Peter cover in this session and we'll be collecting and getting to as many as possible within the time we have.)
Second half - Following the more structured portion of the event, we'll be facilitating a live Q&A where Peter will be answering and engaging with questions from those in tuning in live.
We'll be wrapping it all up with some giveaways including Canon gear, a number of Nomatic Peter McKinnon Bags, and a few Polar Pro Peter McKinnon filters as well! Details are below on eligibility and how to be included for a chance to receive one of the giveaways.
Giveaways:
We're going to be getting some great product into the hands of a number of you who register and here's all you have to do to be eligible (please note: due to current limitations, legalities, and logistics, only Canada and USA residents (excluding Quebec, Hawaii, and Alaska) are eligible for the giveaways for this event):
Register for the event
Be a Canada or USA resident (excluding Quebec, Hawaii, and Alaska)
Select the opt-in for the Canon Canada OR Canon USA emails (depending on your country) during your registration.
Giveaway items include: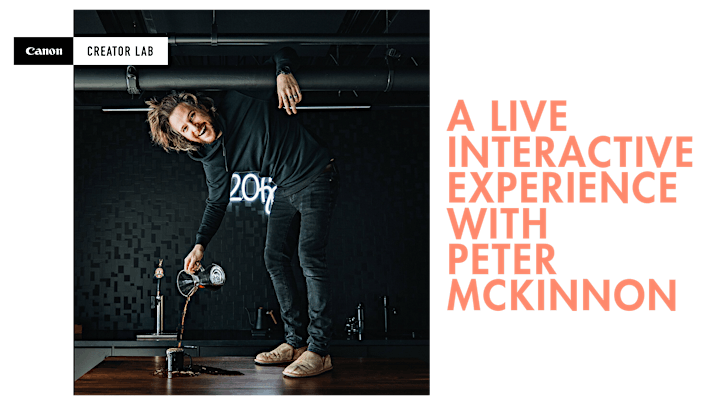 About Peter McKinnon:
Peter McKinnon is a Toronto based photographer, filmmaker, and lover of coffee and good stories. With hard work and a passionate dedication to his craft, Peter has built a global audience through his self-titled YouTube channel reaching over 5 million subscribers and counting. Peter's mix of passion, personality, and knowledge have inspired creators from around the world to get out and create the work and life that they love. Peter is a Canon Ambassador and currently has product collaborations with Nomatic and Polar Pro. Peter's commercial work has spanned numerous projects and collaborations over the years culminating recently in a major holiday ad campaign with Hyundai documented in his "Just a YouTuber" video.
Peter on YouTube: https://www.youtube.com/channel/UC3DkFux8Iv-aYnTRWzwaiBA
Peter on Instagram: https://www.instagram.com/petermckinnon/
Who's this event for?
This event will be valuable for creatives of all backgrounds looking to grow creatively, get inspired, and tell better stories. Whether you're a photographer, videographer, digital creator, model, blogger, or just getting started on your creative journey, these online events provide an opportunity to connect with others in the community and learn something at the same time.  
—
Any further details will continue to be updated and communicated as we get closer to the workshop. RSVP to secure your spot.