This year's lecture and its focus on events surrounding the presidential election in the U.S. acknowledges that conflict can take many forms
About this Event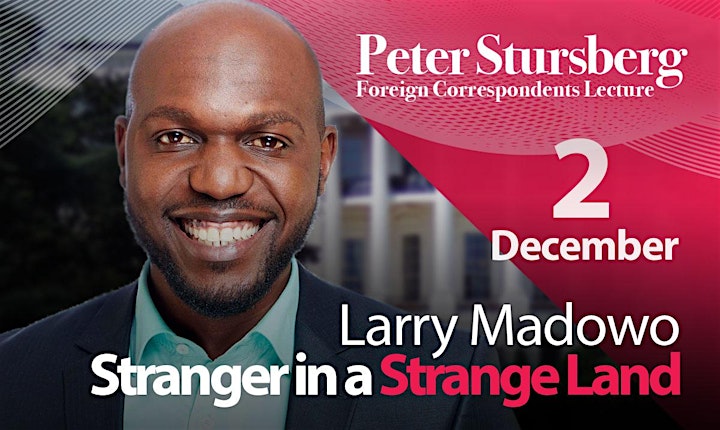 BBC correspondent in Washington to deliver 2020 Peter Stursberg Foreign Correspondents Lecture
A Stranger in a Strange Land
Larry Madowo, the Kenyan journalist who is a Washington-based North America correspondent for the BBC, will deliver the 2020 Peter Stursberg Foreign Correspondents Lecture, on Wednesday, Dec. 2 at 7 p.m. Through his lecture, Stranger in a Strange Land, Madowo will reflect on his journey from covering the disputed presidential elections in Kenya in 2007-08 through to the political turmoil in which the United States is now embroiled.
The event will be moderated by Nahlah Ayed, host and producer at CBC IDEAS. She is an award winning veteran of foreign reportage: first in the Middle East, where she spent nearly a decade covering the region's conflicts; then in London, covering some of the biggest stories of our times. Ayed holds a Master of Journalism from Carleton University, a Master's degree in interdisciplinary studies and B.Sc. in genetics from the University of Manitoba.
This year's Stursberg Lecture is free and open to the public and once again presented by Carleton University's School of Journalism and Communication. Those who wish to participate are asked to register here and join on Dec. 2 through Zoom. Space may be limited so register early.
Madowo has made his mark with his coverage of the US presidential election and its aftermath and is a pioneering digital journalist with more than 4 million social media followers around the world on Twitter, Instagram and Facebook.
Madowo started his career in his native Kenya as a business reporter and anchor on two national TV networks. He was also an anchor for CNBC Africa based in Johannesburg. More recently, he was the BBC's Africa Business Editor responsible for setting up a new unit, hiring nearly 30 reporters and producers in five countries and launching six new shows. He was named among the 100 Most Influential Africans in 2018.
Madowo is a North America Correspondent for the BBC based in Washington and has anchored breaking news from the BBC's DC studios and presented its flagship program BBC World News America. He was named a Young Global Leader by the World Economic Forum in 2020. He was a Knight-Bagehot Fellow in Economics and Business Journalism at Columbia University from where he graduated with a master's degree.
He has reported from nearly 40 countries, lived on three continents and interviewed some of the world's most prominent names. In addition to the BBC, his work has appeared on CNN International, France 24, Al Jazeera English and in the Guardian, the Washington Post.
Carleton University's School of Journalism and Communication, through the generosity of Richard Stursberg and Judith Lawrie, established the Peter Stursberg Foreign Correspondents Lecture in 2017.
The lecture honours the legacy of famed Canadian war correspondent Peter Stursberg (1913-2014), an adventurous and prolific journalist who was Canada's last living war correspondent from the Second World War.
The lecture recognizes the importance and impact of journalism that bears witness in troubled areas around the world and has traditionally been delivered by a correspondent with experience reporting from conflict zones. This year's lecture and its focus on events surrounding the disputed presidential election in the U.S. acknowledges that conflict can take many forms.