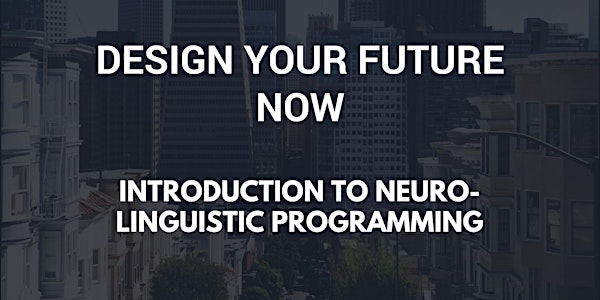 Multiple Dates
Petrel Seminar: Design Your Life (What you need to know about NLP)
Description
Great News....
There is a great opportunity for you to learn about your subconscious mind.
NLP (Neuro Linguistic Programming) is a series of methods and strategies for better understanding and appreciation of our minds; in other words, our experiences, thoughts, emotions, and behavior. It is known to have helped millions of people achieve breakthroughs in their performance, relationships, education, business, and lives.
In these free workshops, you will become familiar with NLP and understand how it helps individuals achieve success. This free seminar will be very helpful for you if you want to:
Find your ultimate purpose in life;

Design a better future for yourself;

Change your undesired habits;

Understand how people perceive their environment;

Improve your relationships, career or financial situations;

Learn more about your subconscious mind;

Understand how NLP helps you in managing your state of mind and getting the best out of yourself;


Duration: 3 Hours –
Dates:
March 14th (Wednesday) 6:00 PM to 9:00 PM

April 14th (Saturday) 11:00 AM to 2:00 PM

Refreshments, light snacks will be provided.
Spots are limited.
Please let us know if there is any way we can accommodate your needs.
---
Facilitator:
Dr. Alireza Sharifi
Certified MasterClass Trainer and Master Coach, founder of Alta Training and Coaching Inc. in Toronto.
With over 7 years of experience in teaching, 5 years of experience in fields of management training and coaching.
Strong background in management, marketing, leadership, work psychology, NLP, Time Line Therapy® and hypnotherapy.

Dr. Sharifi is the author of "Leading in Dynamic Organizations: Enhancing Performance, Creating Change".

For more information regarding this event please do not hesitate to contact us at:
learn@petrelcollege.ca
(289) 842-3360
Organizer of Petrel Seminar: Design Your Life (What you need to know about NLP)
Petrel College is a hub for technical training, entrepreneurship, and networking.
We also offer full-time and part-time sessions, workshops and bootcamps to satisfy a variety of learning needs.
Petrel College of Technology is a private career college registered under the Private Career Colleges Act, 2005, as approved by the Superintendent of Private Career Colleges.