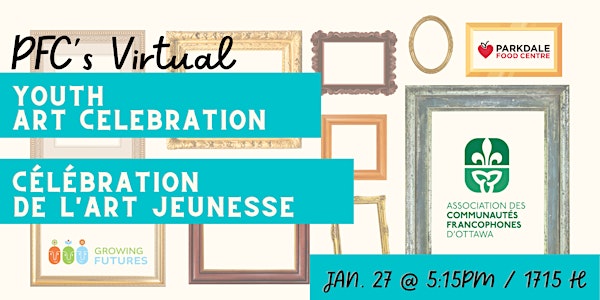 PFC's Virtual Youth Art Celebration/Célébration virtuelle de l'art jeunesse
Join us for a virtual celebration and youth art showcase! Get a virtual tour of the new art hanging at Parkdale's Mino'Weesini!
About this event
Joignez-vous à nous pour une célébration virtuelle et une vitrine d'art pour les jeunes! Obtenez une visite virtuelle du nouvel art accroché au Mino'Weesini de Parkdale!
This event will be an opportunity to hear from the young artists about their inspiration behind the art, and the importance of art in the community. A few of the students from the class will speak about connecting art and activism and why having this art at Parkdale will help make Mino'Weesini an even more welcoming space.
Virtual tour will be performed by Parkdale staff so that the community can witness the art for themselves!
We will also take this opportunity to thank our sponsors Association des Communautés Francophones D'Ottawa (https://acfoottawa.ca/) for their support in all of the Francophone programming we have been able to accomplish over the last few months. We will take a few minutes to highlight this wonderful work. Please join us for this amazing community celebration! Information will be delivered in both French and English on the night of the event.
We hope to see you in person so soon, but for now, let us bring the gallery to you! :)
This is a free event and will likely last about 45 minutes to one hour. Please contact karin at growingfutures @ parkdalefoodcentre.org if you have any questions.