Welcome to our In-Person L.I.T. Summer Program for kids in going into grade 7 to grade 9! This is the registration page for Week 5 of 5!
About this Event
Welcome to week 1 of our summer L.I.T. program! Each week we will have a different theme for our program activities! Due to our small group numbers, we will be opening registration on a weekly basis to allow multiple families to experience our summer program. Check out our weekly themes below!
This weeks theme is : "All About Me" - This week is all about personal development! We'll be working on learning about self care, good body image, and building self esteem. While our programs try to weave this learning through, this week will be a direct focus on learning about self!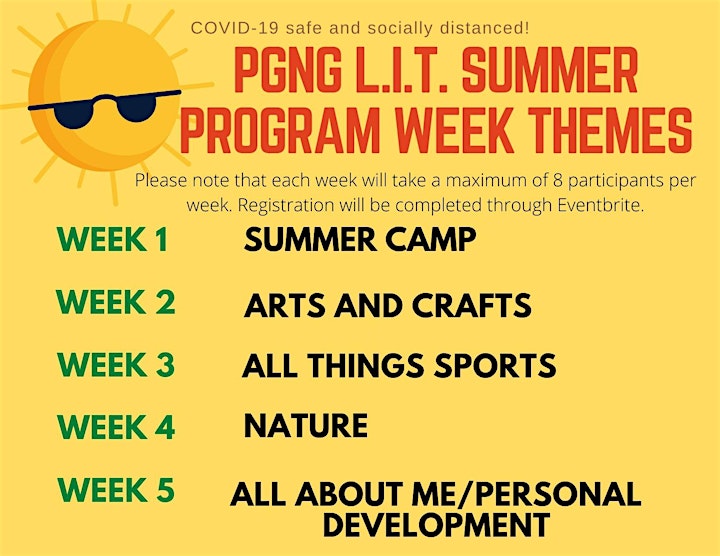 Please Note: We only have 8 spots for programs each week. Once the 8 tickets are sold out on Eventbrite, we will not accept any more registrations. Once these 8 participants have filled in the below Google Form, registered families will be notified before the start date. Due to Public Health requirements, we will not make any exceptions to the 8 participant rule.
------------------------------ PLEASE READ --------------------------------
PLEASE FILL OUT THIS INFORMATION FORM TO COMPLETE REGISTRATION: https://forms.gle/x2M6eKEJzpXAd46K8
If you have previously completed the form above, please do not fill the form out again
Due to the rapid spread of COVID-19 and the requirements around social distancing, we are requiring parent/guardians to read through this statement prior to registration. If you require a translated or accessible copy, or if you have any questions, comments, or concerns, please feel free to contact PGNG at 519 824 6340 or by email at pgng96@gmail.com.
In order to minimize the spread of COVID-19 we have update our staff policies to reflect extra safety measures. Therefore the programs this summer will look quiet different. We are asking our families to continue showing care and generosity to each other by self monitoring all members of the household and by following social distance measures. By working together, we can ensure this summer is safe and fun for everyone!
Drop off/Pick up
On arrival all parents will be asked to remain in the drop off zone. Children are to be sent into the program check in area without their parents company. We ask all parents to remain in the drop off zone until their child has been admitted into the program before leaving.
Please Note:
All program participants (including staff) will be go through daily symptom check in upon arrival to the program drop off location
Any staff or participant who is experiencing any symptoms of illness cannot attend program - i.e. coughing, shortness of breathe, fever, runny nose, etc.
Any participant who shows symptoms during program must be picked up from program as soon as possible and referred for testing - Please be available for immediate pickup, or, provide an emergency contact that can come for your child(ren) if one of our supervisors calls you during the day
Any participant displaying symptoms of illness will be isolated from all program participants while waiting to be picked up
Program participants and staff will attempt to keep 2 meters (6 feet) apart and masks will be required if that distance cannot be maintained
All communal spaces will be disinfected on a regular schedule based on Public Health recommendations
All participants and staff will participate in a daily hygiene routines - i.e. scheduled hand washing
Before arriving each day, families are asked to perform self illness assessment
If there are symptoms of illness present in the household, families are required to keep the child home and notify PGNG of their absence
There will be no physical contact between participants - i.e. no hugging, no high fiving
There will be no sharing between participants - i.e. no sharing food, toys, or program items
There will be no-to-limited communal sharing of program items
All program participants will receive 2 re-useable masks courtesy of the Guelph Tool Library. Starting day 2, kids will have to bring their washed mask with them each day. No additional re-useable masks will be provided but disposable masks are available at program in case of emergency.
Most program activities will take place outdoors. Please dress kids in appropriate foot ware and lose, breathable clothing. Water fountain usage will not be encouraged, please send kids with a refillable water bottle.
Our program staff is working closely with public health officials and with other GNSC summer programs to design the most COVID safe program as possible. In the unlikely event that there is a positive test of either a program staff member or a participant summer programming will close for 14 days. All families will be contacted, and public health officials will be alerted.
Please be aware that these policies are in place to ensure the safety of all families at Parkwood Gardens. If a program participant, staff, or family does not meet the above expectations during our length program, they will be asked to leave the program immediately. If a decision is made to remove a program participant from activities due to inappropriate behaviour or disregarding of the program expectations, parent/guardians will be required to pick up the participant as soon as possible.