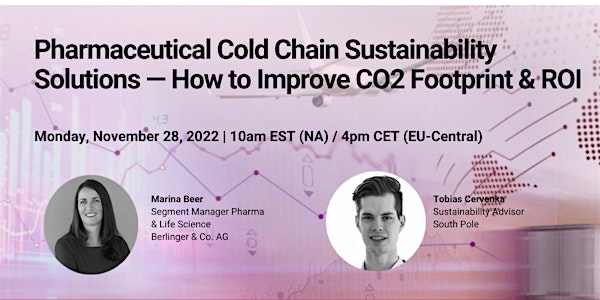 Pharmaceutical Cold Chain Sustainability Solutions
Get more insight into driving sustainability innovation by improving the CO2 footprint & ROI of a pharma cold chain business case
About this event
The pharma sector is a major contributor to global greenhouse gas emissions, with emission intensity being approximately 55 percent higher than that of the automotive sector. Global leaders in the pharmaceutical industry are prioritizing the elimination of harmful greenhouse gas emissions to limit global temperature to the 1.5-degree rise, as proposed in the Paris Climate Agreement of December 2015. The need to improve CO2 footprint in the pharmaceutical cold chain is now more than ever.
From ambition to action, Berlinger has turned the challenge of high emissions in cold chain logistics into an opportunity for innovation. The company has developed an entirely new smart monitoring ecosystem "SmartSystem" meeting the various challenges of the industry among others real-time coverage, costs and sustainability. The basis for innovation is a baseline carbon footprint analysis of the Berlinger product portfolio. The project that was successfully completed with the renowned sustainability advisory South Pole in 2021 significantly impacted the innovation process of SmartSystem — in terms of hardware platform and respective business models — and resulted in the awarding of the Climate Neutral Product Label in 2022.
In this webinar, Berlinger and South Pole discuss the impact of climate actions on the pharma cold chain market, the Berlinger and South Pole climate journey as well as how sustainability can add value to the respective business case. Berlinger argues that improving the ROI whilst reducing CO2 emissions in the pharmaceutical cold chain are not mutually exclusive.
Join the discussion to get more insight into driving sustainability innovation by improving the CO2 footprint & ROI of a pharmaceutical cold chain business case.