Philippine Language in Debate, Serenade, Song, Poetry & Dance
About this Event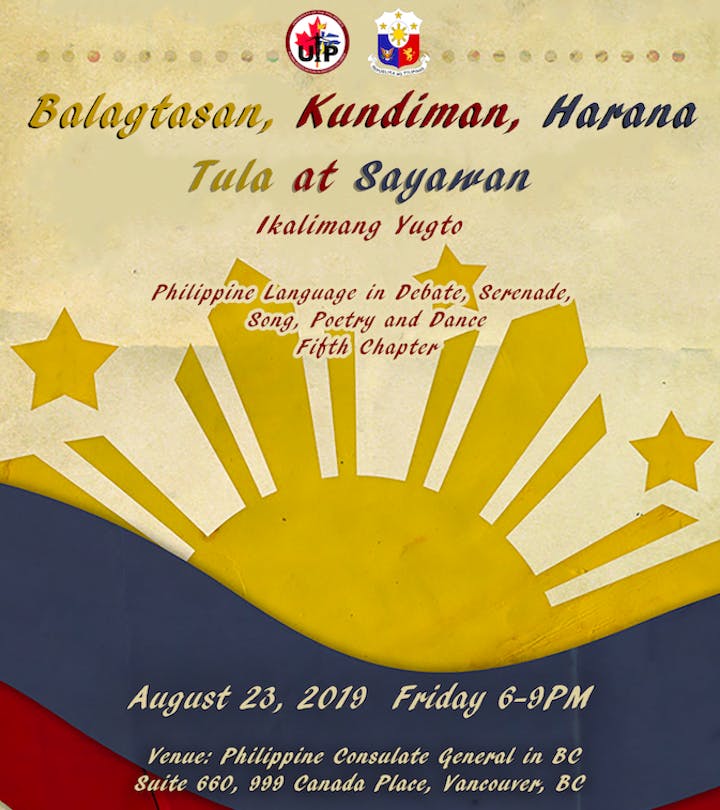 You are invited to "Balagtasan, Kundiman, Harana, Tula at Sayawan" (Debate, Serenade, Song, Poetry, and Dance) in celebration of Filipino language and culture.
Presented by the University of the Philippines Alumni Association in BC, in partnership with the Consulate General of the Philippines, the event will highlight the rich heritage and diversity of Philippine literature, dance, and music - from North to South.
This event is free but there are limited tickets, so RSVP early.
DATE: 23 August 2019
TIME: 6:00 - 9:00 PM
VENUE: Consulate General of the Philippines
Suite 660, 999 Canada Place, Vancouver, BC | Map here.
For more information, contact 604.783.9097 (Mylene), 604.779.3171 (Rosette) or 604.874.9017 (Athena).