Description
When: Saturday, August 29, 9am-3pm

Where: Volta Labs, 1505 Barrington Street (Maritime Center), 7th Floor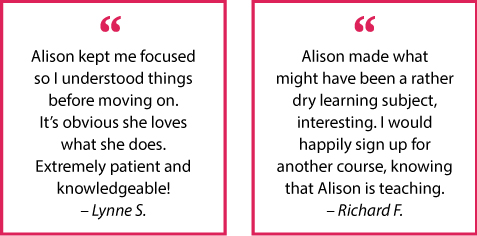 Grasp the most important aspects of Photoshop to create great photos and artwork - even if you've never touched it before.
Have you been told Photoshop is too complicated to learn? Are you frustrated with using clip art and being stuck with the photo you took because you don't know how to edit it? Do you find online tutorials overwhelming and wish you could learn the basics with someone on hand to answer your specific questions?
Enroll in this one-day workshop designed to get you up and running with Photoshop! Walk away with edited photos and designs made by you. tips and tricks as you work on relevant exercises, completing artwork during the session.
Workshop Outline

Understand the most important parts of the program... fast!

Open and edit photos so they look correct on things such as Facebook or printed

Apply special effects, type and colour to make your photos or designs memorable

Cheatsheets provided for easy reference

TAs and instructor ready for lots of one-on-one time

Note that we break from 12-1pm for lunch (not provided)
Prerequisites
You do not need to have any experience with graphic or photo editing software

You should be familiar with basic computer skills (how to open, save, access files)

Bring your own laptop with Adobe Photoshop (not Photoshop Elements) already installed.

Don't have Adobe Photoshop? Not to worry - you can access a free trial here: https://creative.adobe.com/products/download/photoshop?promoid=61PM825Y&mv=other
"I'd LOVE to use Photoshop, but I know it's too complicated for someone like me."
I hear this all the time. And it breaks my heart. As an instructor who has taught the program to students young and old, over weeks and also over just a few hours, I want you to know... it is NOT complicated when approached the right way.
My small workshop size and teaching methodology is the perfect combination of what I like to call "applied creating". Together, we'll have... dare I say it... FUN editing photos and graphics. Without limitation. And with a whole lot of confidence.


About The Instructor, Alison Knott
Being the extroverted geek has paid off! A graphic designer and web consultant by trade, Alison has been steeped in the intersection of art, technology and education since 2007. As an instructor and national public speaker, she has covered topics such as Photoshop, InDesign, WordPress, design, HTML/CSS, figure drawing, and web literacy. She has instructed at NSCC IT Campus and NSCAD Extended School of Study. Volunteer work has included Halifax Trade School, E3C, WordPress Halifax Meetup and Lighthouse Labs.

At the end of the day, Alison loves nothing more than to delight and empower her students and audience.
FAQs
Tell me more about the Free 1 Hour Post-Workshop Session with Alison

Sure thing! After the workshop is complete, you will be scheduled for a one hour training session with Alison ($40 value - for those that signed up by July 26). All sessions are done virtually via Skype or Zoom, which are recorded and sent to you for handy future reference!
What's the refund policy?
While there are no refunds for the workshop, please consider sending someone else in your place. In the event you can no longer make the workshop, feel free to email me at alison@eraserheader.com with the name of the new ticket holder. If you have any other questions regarding the workshop, please don't hesitate to ask!


Does it mater what kind of laptop I have?
The workshop is taught on a PC environment but Photoshop is so similar between Mac and PC you won't have any difficulty following along if you're using a Mac.