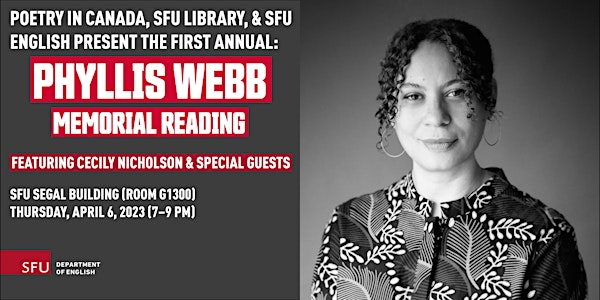 Phyllis Webb Memorial Reading
Join us for the Phyllis Webb Memorial Reading featuring Cecily Nicholson with Otoniya J. Okot Bitek, Junie Désil & Stephen Collis on Apr. 6.
By Simon Fraser University Department of English
Date and time
Thu, Apr 6, 2023 7:00 PM - 9:00 PM PDT
Location
Segal Building, SG1300-1500 500 Granville Street Vancouver, BC V6C 1W6 Canada
About this event
The Phyllis Webb Memorial Reading honours a Canadian poet with a cash award and a celebration of their work. This event will occur each April and will be organized and administered by the Poetry in Canada Society.
A Governor General's Award–winning poet and a member of the Order of Canada, Phyllis Webb was a major Canadian cultural figure from the 1950s through the 1980s, publishing ten celebrated collections of poetry and prose and co-founding the CBC Radio program Ideas (in 1965). When "words abandoned" her in the early 1990s and she was no longer able to write, she took up photography, photocollage, and eventually painting.
As Stephen Scobie once wrote, the work of Phyllis Webb "has always been distinguished by the profundity of her insights, the depth of her emotional feeling, the delicacy and accuracy of her rhythms, the beauty and mysterious resonance of her images – and by her luminous intelligence." It is this legacy that the Phyllis Webb Memorial Reading seeks to honour, by selecting a poet who is distinguished by similar qualities.
In 2023, the first annual Phyllis Webb Memorial Reading honours poet CECILY NICHOLSON. Cecily Nicholson is the author of four books, and past recipient of the Dorothy Livesay Poetry Prize, and the Governor General's Literary Award for poetry. She has held the Ellen and Warren Tallman Writer-in-Residence at Simon Fraser University, and Writer-in-Residence at the University of Windsor. She teaches at Emily Carr University of Art + Design and collaborates with community impacted by carcerality and food insecurity. Her most recent book, HARROWINGS, considers rural and black experience. Across her work and her commitments as an organizer in a variety of intersecting communities, Nicholson combines intellectual insight, rigorous critique, a resistant and caring heart, and a spirited dedication to decolonization and Black flourishing. All this reaches the reader in a moving song of lyrically inflected long poems that harrow history with sheer beauty.
This year's event also features guest readers Otoniya J. Okot Bitek, Junie Désil, and Stephen Collis. Attendees can also look forward to light refreshments at the event.
Important Information:
Sponsors: This event is co-sponsored by Poetry in Canada, the SFU Library, and SFU's Department of English
COVID Protocols: Mask-wearing in indoor spaces is recommended at SFU campuses. Hand sanitizer will be available on site.
Venue and Accessibility: This in-person event takes place at the SFU Segal Building. It is easily accessible by transit and near SkyTrain. The Segal Building is wheelchair accessible and has wheelchair accessible washrooms. Gender neutral washrooms can be found on the main floor, SB 1540 & SB 1640.
Please note: This event will be recorded and photographed. If you do not wish to be photographed, please inform the photographer.