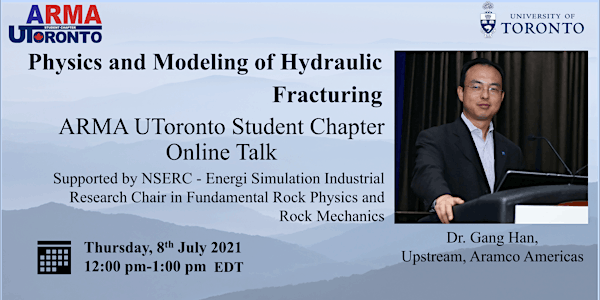 Physics and Modeling of Hydraulic Fracturing, Dr. Gang Han
Hydraulic fracturing: How to model it, the physics behind it and addressing the causes for discrepancies from field observations.
About this event
Abstract
How to model hydraulic fracturing? Why are model results different from field observations? Based on benchmark studies with twenty fracturing models, this talk highlights the various physics involved in hydraulic fracturing, as well as the model capacities and limitations. With standardized input and output requirements, the models compared range from legacy 2D, pseudo 3D, planar 3D, to fully coupled 3D, state-of-the art models. In general, all participants successfully demonstrated their model's validity in capturing various physical phenomena. Differences in the models result from different inherent assumptions/simplifications, theoretical backgrounds, numerical approaches, and physics incorporated. A field example of simulation optimization demonstrates the importance of appreciating these differences when selecting a fit-for-purpose model.
Speaker Bio
Dr. Gang Han is the Incoming President and an Executive Committee member of American Rock Mechanics Association (ARMA). As the chair of ARMA Technical Committee on Hydraulic Fracturing, he is the founder and the chair of the Hydraulic Fracturing Community, with over 1000 members representing 323 global organizations. He has been chairing ARMA Annual Symposia, International Geomechanics Symposia, and society workshops. As the geomechanics program chair since 2013, he has championed the discipline into one of the largest themes at Unconventional Resources Technology Conference (URTeC).
With 20+ years of experience in rock mechanics and geomechanics, he focuses on the technologies related to hydraulic fracturing, reservoir performance, well productivity, well planning and constructions, and stress and rock characterizations. Published over 50 papers in journals and conferences, he is regularly invited to give keynotes at SPE, AAPG, SEG, and URTeC. He is a leading author of a multi-industry book, Drilling in Extreme Environments - Penetration and Sampling on Earth and Other Planets. He holds a PhD in Chemical Engineering from the University of Waterloo, Canada.