About this Event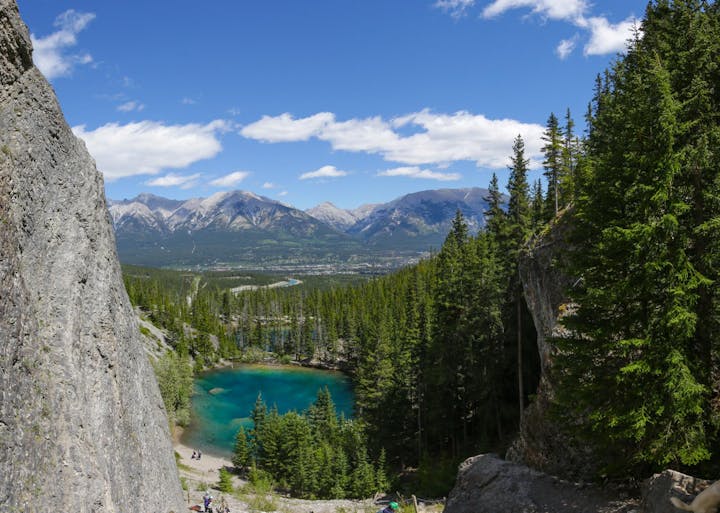 After a leisurely stroll up to the emerald waters of Grassi Lakes to view rock art left centuries before by indigenous peoples, participants will be seated at a scenic spot at the lower lake. Tea and a light snack of foods traditionally gathered by First Nation peoples will be offered. Creative inspiration from the hike will be channeled by the instructor, PATTI DYMENT, a talented En Plein Air artist, to create an individual and expressive art piece. Expect 3-4 hours for the walk to the pictographs, instruction, and return to trailhead.
Audience: This workshop is suitable for beginner-intermediate with some painting experience. All supplies are included.
Hike: This is a leisurely hike beginning at Grassi Lakes trailhead. No transportation is provided to the trailhead. The distance to the pictographs is approximately 2 km with ~200m elevation gain. Good hiking shoes and a backpack will be required to carry:
-personal medications
-snacks/lunch and water
-art supplies and foam sitting pad (included)
-extra layers of clothing (you may get chilly when seated to paint)
-rain gear
-suncreen & hat
An email will be sent to participants at the time of booking confirming all the details and directions to the meeting place.
Registration cost:  $140
If event is sold out, please contact us to be put on waitlist: 403-200-6929
For our Cancellation and Refund Policy, please visit  https://www.earthandpine.com/events-terms-of-service
Event Contact:
Gabrielle Abernethy Owner, Earth & Pine Outdoor info@earthandpine.com 403 200 6929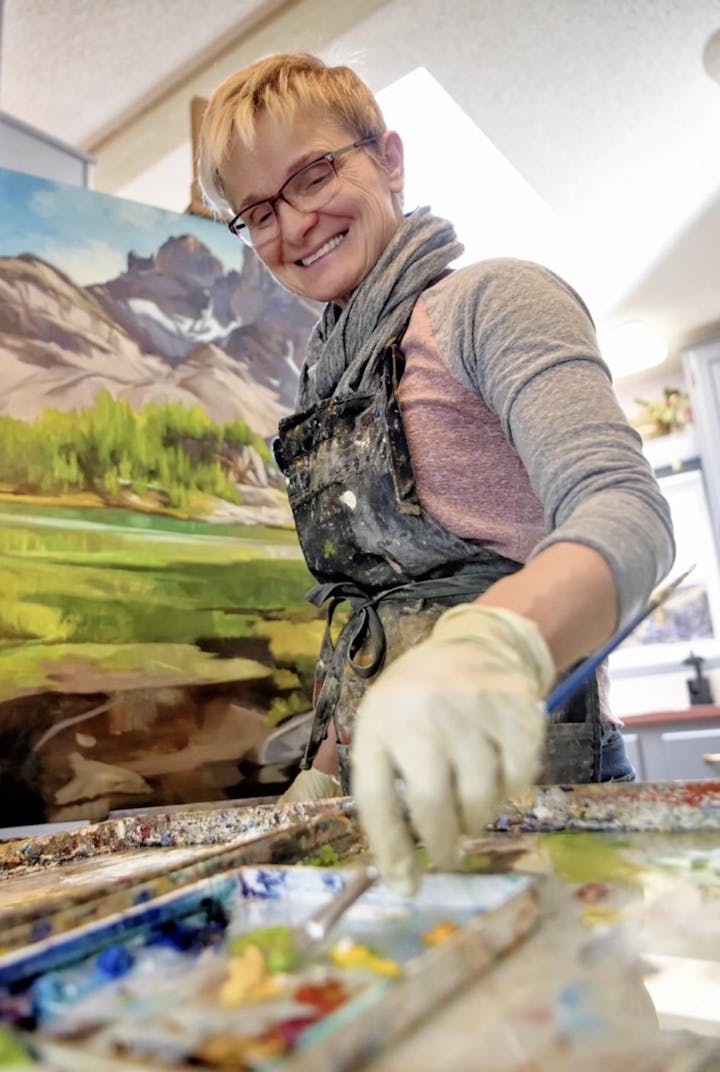 ARTIST/INSTRUCTOR BIOGRAPHY:
Living, hiking and painting in the Canadian Rockies for over three decades has given Canmore artist Patti a profound appreciation of, and connection to the mountian landscape. She paints en plein air as much as possible, loving the challenge and the adventure.
"I want to share the sensations of outdoor painting in all my landscapes, plein air or studio. I paint relentlessly, I study painting, I teach painting, I think about and dream about painting. It's a wonderful fascination."
Painting career highlights of the past few years include:
-achieving FCA signature status in 2011 -solo and trio exhibitions in the Whyte Museum of the Canadian Rockies -duo exhibitions in the Canmore Guild Gallery, the Edge Gallery, Canmore, and the Fallen Leaf Gallery, Canmore -The Calgary Stampede Western Art Gallery -many Federation of Canadian Artists group exhibitions, including Spilsbury Medal and AIRS exhibitions -teaching many classes and workshops in painting and drawing, and private oil painting lessons. -Artist in Residence, Numtijah Lodge, Bow Lake, AB -Artist in Residence, Alpine Club of Canada Artist Retreat, Yoho National Park, BC
GALLERIES:
Fallen Leaf Gallery, Canmore, AB https://www.fallenleafgallery.com/patti-dyment.html
The Grant Berg Gallery, Kananaskis Village, AB https://www.grantberggallery.com/about/berg-gallery/
Her work can be viewed at: