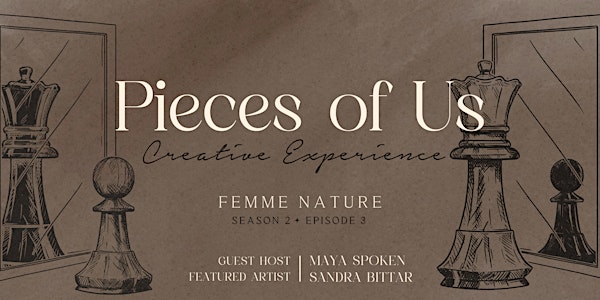 Pieces of Us - Creative Experience
A night filled with performances by local artists including poets, singers and musicians.
By Pieces of Us & EVTL Inc.
Date and time
Mon, May 29, 2023 7:00 PM - 10:30 PM EDT
Location
LIVE! on Elgin 220 Elgin Street #2 Ottawa, ON K2P 1L7 Canada
About this event
Pieces of Us – Season 2 – Episode 3 – Femme Nature
Pieces of Us is an intimate space and a creative experience dedicated to artists looking to share their gifts and talents on a public platform. It is an environment where you can be your authentic self, think without boundaries, and connect & collaborate with others.
As Mother's Day is Sunday, May 14th this year, we want to take the opportunity to celebrate mothers and womanhood for our May Episode. We feel that the theme "Femme Nature" appropriately captures this. This episode is a celebration of women in the space of artistic expression.
Performers are asked to share their experiences/relationships with their femininity and what it means for them to experience life as women, mothers, daughters, aunts, etc., and their relationships with their own mothers or their children, if applicable - all while tying in the challenges they face and/or successes they experience when practicing their chosen art forms.
Come out and show your support!
***
We believe that every work of art contains a piece of the artist who created it.
We believe that true art requires vulnerability and self expression.
We believe that art should be shared in a way that is emotionally engaging and respectful of the artist's original intention.
We believe that artistry can be a spiritually enriching experience.
We believe that art is transformative and inspires growth.
This is Pieces of Us.
***
Date: Monday, May 29th, 2023.
Doors Open: 7PM.
Show time: 7:30 PM - 10:30 PM.
Location: LIVE! on Elgin.
We look forward to hosting you!
Please note that this venue is not wheelchair accessible and may be challenging for individuals with reduced mobility.
Food options are available for purchase and the bar will be open throughout the evening to provide a variety of refreshments and beverages.
If you are interested in performing at an upcoming episode, please take a moment to fill out our jotform: https://form.jotform.com/222515153755252.