Pika Wildlife Photography Tour on July 14, 2018

Saturday, 14 July 2018 from 11:30 AM to 4:30 PM (MDT)
Event Details
Pika Wildlife Tour Saturday July 14, 2018
Start:  July 14 at 11.30am
End:  Jully 14 at 4:30 pm

Meeting place:  Lake Louise Overflow Campground and Moraine Lake/Lake Louise shuttle departure
Location:  Lake Louise area
Tickets:  $345.00 + GST – ILPA members receive a $70 refund on their registration (ILPA members need to contact Brian Merry to receive their $70 refund after their registration process is complete.  Refunds are not available after the event has started.  Contact me early for your refund!)
What's Included:  A veteran full time, professional photographer with 22+ years of experience as a pro photographer based in the Canadian Rockies.  He's a certified Apprentice Interpretive Guide by the International Guides Association, IGA, President of the International Landscape Photographers' Association, and owner of "Brian Merry Photography" since 1997.
What's not included:  Transportation.  We'll carpool from the start location.
Number of Participants: maximum 3 participants
A liability release waiver will need to be read, understood, accepted and signed before the tour starts.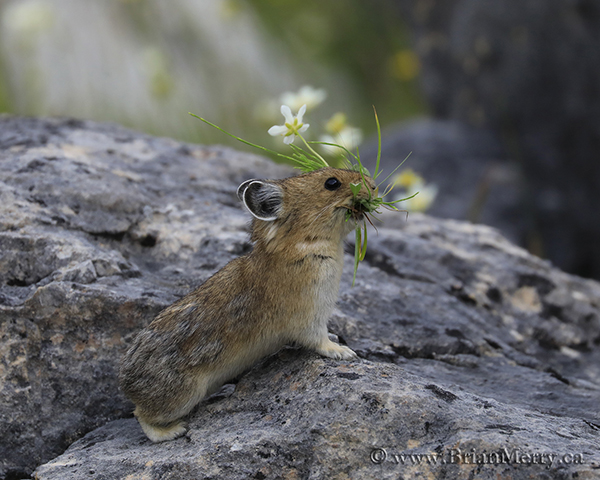 Banff National Park is one of the best places on earth to capture stunning wildlife photographs from grizzly bears to the small little Pika.  A low 3:1 participant to instructor tour with only 3 people will help me to help you to capture incredible Pika wildlife photographs.  Pika encounters are guaranteed.  And, I will refund you the entire registration fee if we do not find pikas.  With my intimate local knowledge of living and photographing in Banff for more than 20 years our chances of finding these little creatures are excellent.  My success ratio for good Pika photography during a wildlife photo session like this is 100% based on 7 trips I've made to the location that we'll visit during the tour.  This is a hands-on photo field workshop where you will have the opportunity to shoot your own stunning photographs with assistance from a seasoned, local professional in a low participant to instructor ratio.


The areas that you will visit during the tour include:
The day will begin by meeting in Lake Louise at the Lake Louise Overflow Parking lot and campground pinned on the event map.  We will carpool to the location for the workshop from here.  
Recommended Supplies: 
DSLR Camera, Long and fast lenses, filters, extra batteries, extra memory cards, layered clothing with comfortable footwear.  If you do not have a telephoto lens then I reccomend that you do not join this tour.  You will need len(s) with a focal length 200mm or more in a full frame camera.  We will be photographing from a distance as to not cause the Pikas to stop their natural food gathering behaviour for more than a few minutes after we arrive in their habitat.
After the tour I'll provide:
a 300 word written critique of your favourite image from the tour that you send me after editing it

an invitation to my alumni Facebook group which is open to past tour and workshop participants.

You'll be able to continue to ask me questions through the FB group and read the answers I give to you and other like minded photographers.  This is a great ongoing learning patform to become a part of.

a membership to the International Landscape Photographers Association for the remainder of the year.  This will give you a discount on upcoming workshops, tours and the

Banff Landscape Photography Summit

Nov. 30-Dec. 2, 2018.
The learning doesn't end when we say goodbye at the end of the day!  Join the ILPA Community!
Brian is the President of the International Landscape Photographers' association and an accredited member of the Professional Photographers of Canada.  Please visit my website to see more tours and workshops.  Thank you for your interest.
Save This Event
When & Where

Lake Louise Overflow Parking
Trans-Canada Highway
Improvement District No. 9, AB T0L
Canada

Saturday, 14 July 2018 from 11:30 AM to 4:30 PM (MDT)
Add to my calendar
Organizer
     Brian Merry is originally from the beautiful province of Nova Scotia and has been living and working as a professional photographer in spectacular Banff, Alberta for more than 20 years.  He moved to Banff after graduating from Acadia University earning a BSc. with honours in biology in 1996 and has been living in the Canadian Rockies ever since.  He started in landscape photography in the 1980s in Nova Scotia after getting his first film SLR camera for Christmas from his parents and he hasn't looked back since that fateful day.  
     Brian is a published writer/photographer in;  Outdoor Photography Canada with a feature article, Kootaney Mountain Culture Magazine, multiple articles in the Canadian Alpine Journal.  He's also been published in numerous reputable blogs writing about the relationship between composition, landscape photography, wildlife photography and achieving emotional communication through your photographs.  His own blog is ranked in the top 5 outdoor photography blogs in Canada.  Brian is also the publisher and editor of the ILPA Landscape and Wildlife Photography Weekly newsletter.  You can read the ILPA weekly newsletter by clicking on the blue link.
     Brian professional photographer career since 1997 and has focused primarily on leading tours and workshops.  He is a Professional Apprentice Hiking Guide with the International Guide's Association and he is the President of the International Landscape Photographers' Association.  Brian continues to travel, photograph and write on all aspects of outdoor photography while developing new tours and workshops across Canada and in various countries around the World, including Japan.  He does all of this while trying hard to be a good husband!
Brian's Teaching Qualifications:
     Brian is the president of the International Landscape Phitographers' association, ILPA, and an accredited nature photographer with the Profesional Photographers of Canada.   He's also earned a BSc. with honours in Biology from Acadia University where he worked as a lab instructor for various biology courses while concurrently earning his honours biology degree.  Brian is a certified NFPA professional instructor with 5 years of professional teaching experience at Lakeland College in their professional fire fighting program in Vermillion, Alberta.  Brian also leads the organizational and production teams hosting the ILPA Landscap Photography Summit, Canada's first, and still only pure ourdoor photography conferenc.  Finally, he's also been leading and teaching landscape photography workshops, tours and seminars since 2007.  Teaching and photography are two of his greatest passions in life, along with mountain and rock climbing.
     You can learn more about Brian and see some of his work on his website or you can call him at 1-403-763-1114.