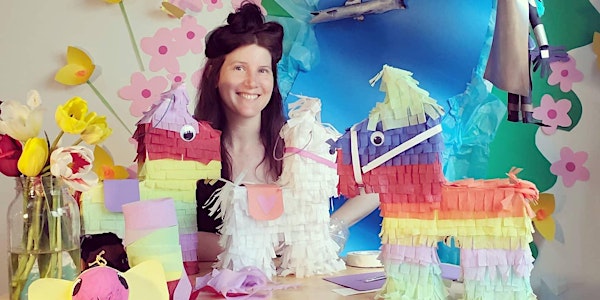 Pinatas and Pies: Pinata Workshop
Pinatas and Pies- Pinata Workshop!
When and where
Location
Aphrodite's Organic Cafe 3605 West 4th Avenue Vancouver, BC V6R 1P2 Canada
About this event
Make the pinata of your dreams and eat pie!
This is the first in person workshop in over a year and I cannot wait to get creative with you!
Vax passports are required and we will be spaced out to accomidate social distancing.
If you have any questions or concerns please email Meaghan at meaghan@yourpinata.com
See you there!
Meaghan Kennedy made her first piñata over eleven years ago for a local cable access show, she immediately fell in love with the craft and left the world of high-end retail to pursue a whole new career as a professional piñata artist. Her one-of-a kind papier mache creations have been commissioned by clients around the world, and have been displayed in BC restaurants like The Mexican Corner in Whistler, The Galloping Goose in Victoria, who commissioned a large-scale papier mache goose, and a permanent collection of pinatas hangs at Aphrodite's Organic Café in Vancouver. Over the last few years she has been a featured artist at art shows hosted by Masik Studios, Ion Magazine's Pop-Up Art Shows and Hot Art Wet City. Meaghan has been featured as an Artist in Residency for Pop Culture Activist Rusty Blazenhoff's Electric Dreams Inbox Zine. She was also selected for the Interesting Vancouver speaker series at the Museum of Vancouver and Vancouver's 39th PechaKucha Night and as a part of Hot Art Wet City's Artist Profile video series.Pinatas have been commissioned for international musicians by Live Nation , every LUSH Cosmetics store across North America, Trolli USA Candies featured 30 top celebrities as pinatas in a Nation Wide candy launch, as well as for The Vampire Diaries cast and the Discovery Channel's Shark Week Wrap Party. Animals, loved ones, stars and kids—anyone can become a piñata when Meaghan gets to work.